Detail of the 1851 Map of Newburyport showing houses on the Bartlet Mall across from where CVS is now located.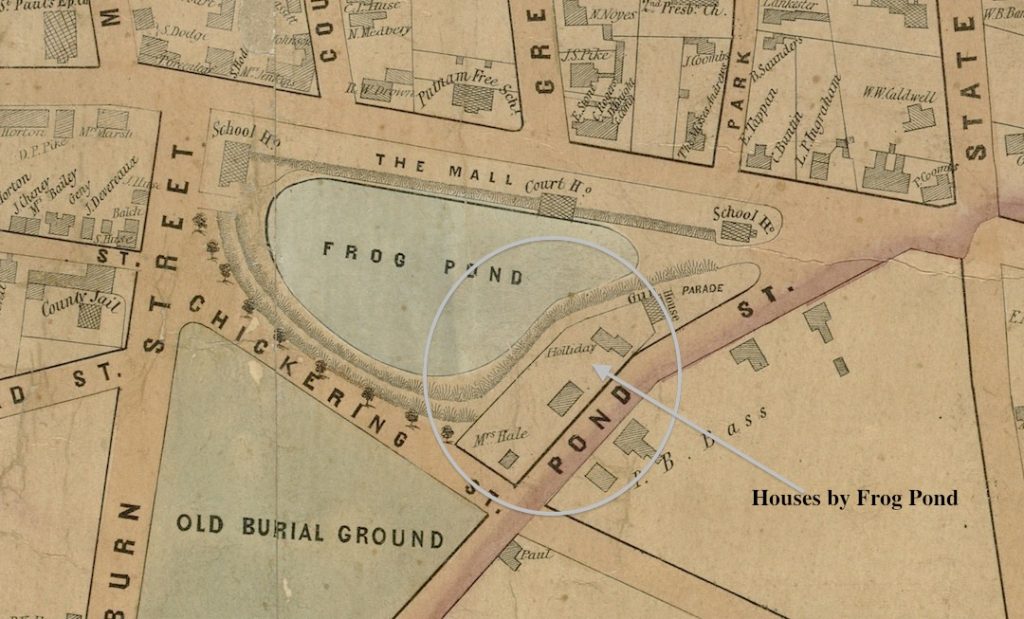 When I ended up researching Pond Street (see previous post), on the 1851 map there are a lot of things on Bartlet Mall which do not exist today, including houses. So I went on a hunt at the Newburyport Archival Center at the Library and I found a wealth of photos that I had never, ever seen before of Frog Pond and the Bartlet Mall, including photos of the houses that were once on the Mall by Frog Pond.
Houses Across from CVS once on the Bartlett Mall, detail courtesy of the Archival Center at the Newburyport Library.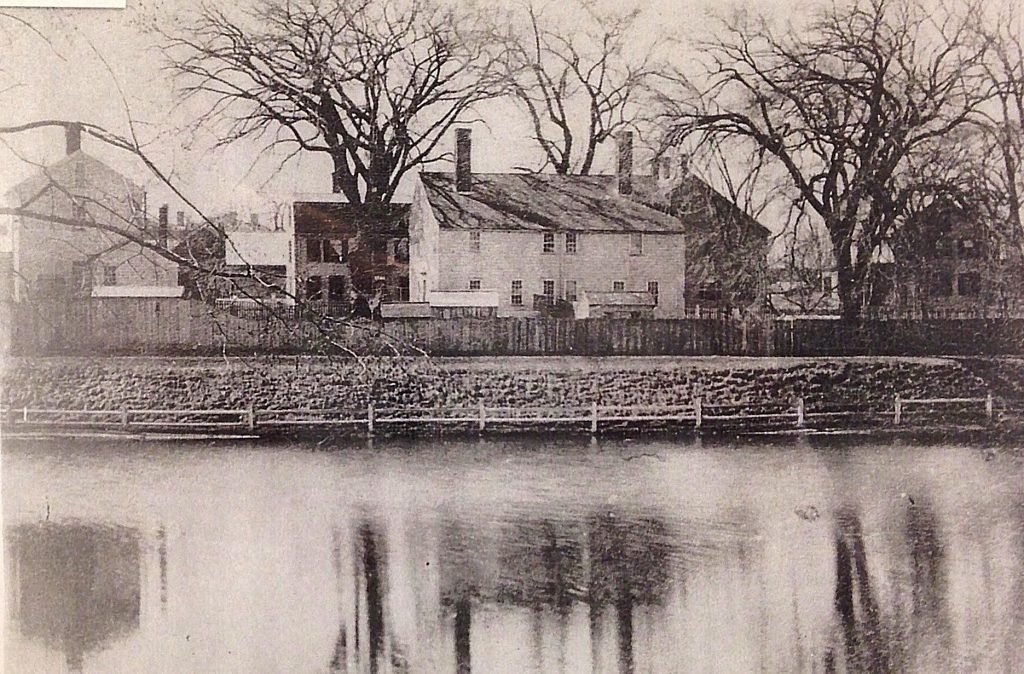 And I wanted to know all about those houses, or at least something about those houses, but there is no address (somewhere on Pond Street across from CVS is not a Newburyport address). Somehow, when I Googled "Frog Pond, Newburyport" I got the name Stephen Hooper — no clue who in the world Stephen Hooper was.
I went to FamilySearch.org (which is free btw) and put in Stephen Hooper, Newburyport, which gave me a start, at least the right century, which was the 1700s.
And then I went to the new archived newspapers, which are now online, from the Archival Center, put in "Stephen Hooper" and found out that in 1856 the Newburyport Daily Herald had this to say, "Its (the Free Mason Lodge, now located on Green Street) first Master was Stephen Hooper and its second Nathaniel Tracy two eminent and wealthy merchants who will always be remembered in our history."
A lot/most/many folks in Newburyport may know or heard of Nathaniel Tracy (as in Tracy Mansion, the Newburyport Library), but Stephen Hooper??  I'm pretty sure that Stephen Hooper is one of those folks, although he was "rare and important" at the time, has long been forgotten. So, it was time to find out who in the world Stephen Hooper was.
Somehow I figured out that Stephen Hooper and Tristram Dalton were acquainted (Tristram Dalton as in the Dalton House, The Dalton Club on State Street, that Tristram Dalton), and that Tristram had married the daughter of Marblehead's wealthiest merchant, who turns out to have been Ruth Hooper, who was the sister of Stephen Hooper. So that means that Stephen was the son of the wealthiest merchant in Marblehead. And then, when I figured that out, things started to fall into place.
Stephen's father was Robert "King" Hooper of Marblehead. Robert's house is now the Marblehead Art Association, and his portrait was done by none other than John Singleton Copley, which is now in the Pennsylvania Academy for Fine Arts (museum) so we know what he looks like, and the portrait is pretty grand.
Robert "King" Hooper, by John Singleton Copley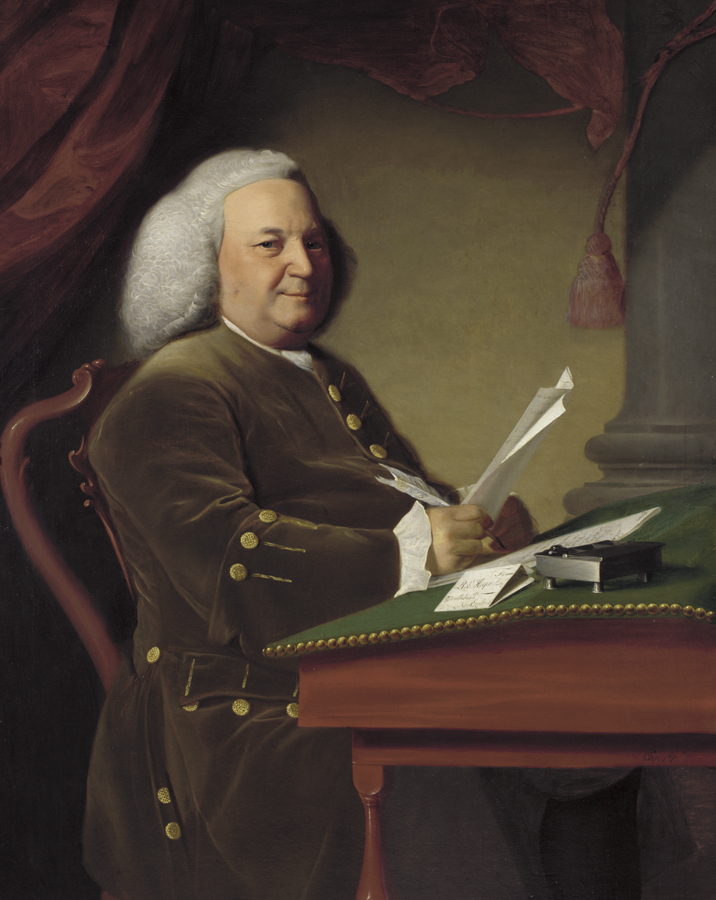 I found in John James Currier's book* this piece of information "Stephen, son of Robert Hooper, graduated at Harvard college in 1761, and came to Newbury soon after that date. He married Sarah Woodbridge October 10, 1764, owned and occupied a dwelling house on the southerly side of Frog Pond in Newburyport."  Eureka!!
And I also found this in as essay by Martha J. McNamara** on Frog Pond,  "Domestic buildings at Frog Pond included a two-story, center-chimney house owned by Stephen Hooper." Another Eureka!
Stephen Hooper's two-story, center-chimney house on Frog Pond, detail courtesy of the Archival Center at the Newburyport Library. (And I think that the house is at the left in the photo at the top of the post, and the twin chimney is a later dwelling.)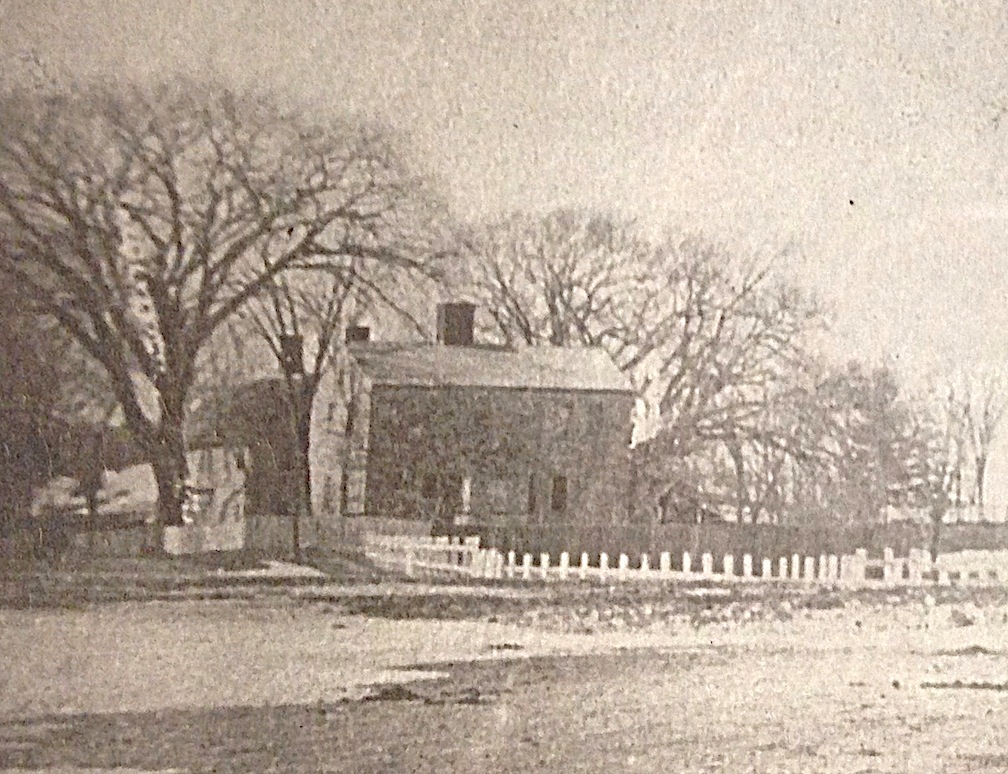 And then there is this map from 1771 that shows Hooper's land on Frog Pond (which is found in both accounts by Currier and McNamara). Pretty cool. You can see the outline of Stephen Hoopers land, a drawing of his house, which would have been across from what is now CVS.
Survey by John Vinal of "Plan of land and Buildings in the Vicinity of Frog Pond," 1771, Courtesy of the City of Newburyport.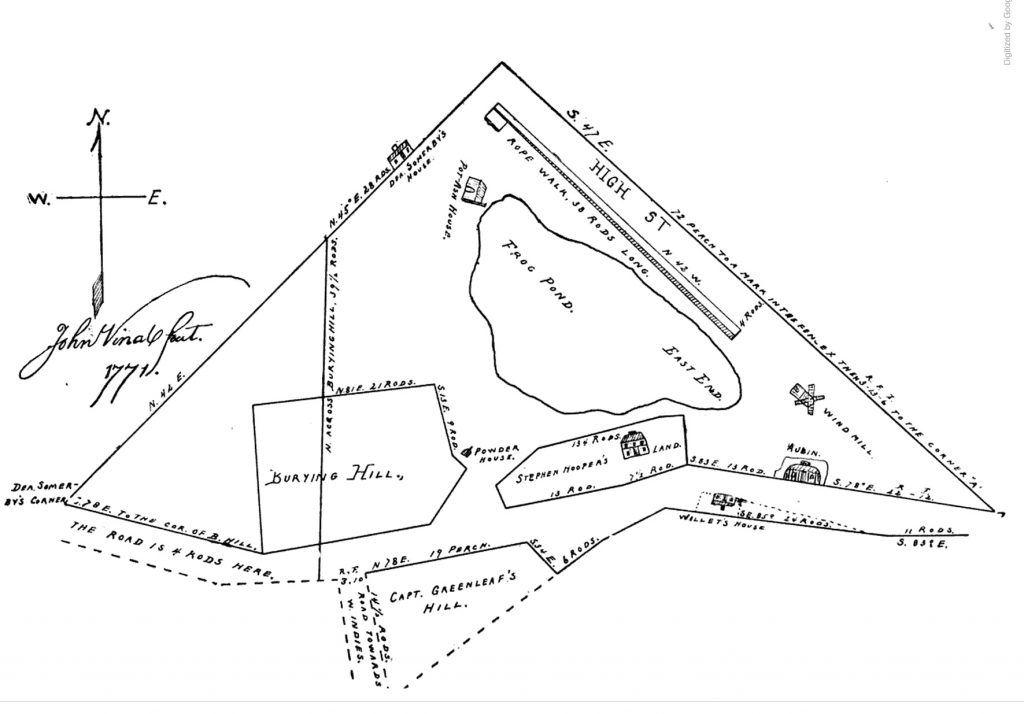 Who is Stephen Hooper? This is one of my favorite description of who he was, "Merchant and shipbuilder, son of Robert "King" Hooper of Marblehead, settled in Newburyport and became one of the town's most prominent residents. Active in the West Indies trade, he was a partner in numerous privateering ventures during the Revolution. Although in 1786 he was the second richest man in Newburyport, by 1790 his net worth was only a fraction of what it once had been." (From of all places, "The Documentary History of the Supreme Court of the United States, Volume 6," Columbia University Press, By Maeva Marcus).
And I found a portrait of Hooper done by Henry Pelham (the stepbrother of John Singleton Copley), a miniature, set in gold,  painted in 1773, it's a watercolor on ivory and it's in the Metropolitan Museum of Art, I'm not kidding.
Stephen Hooper, by Henry Pelham, the Metropolitan Museum of Art.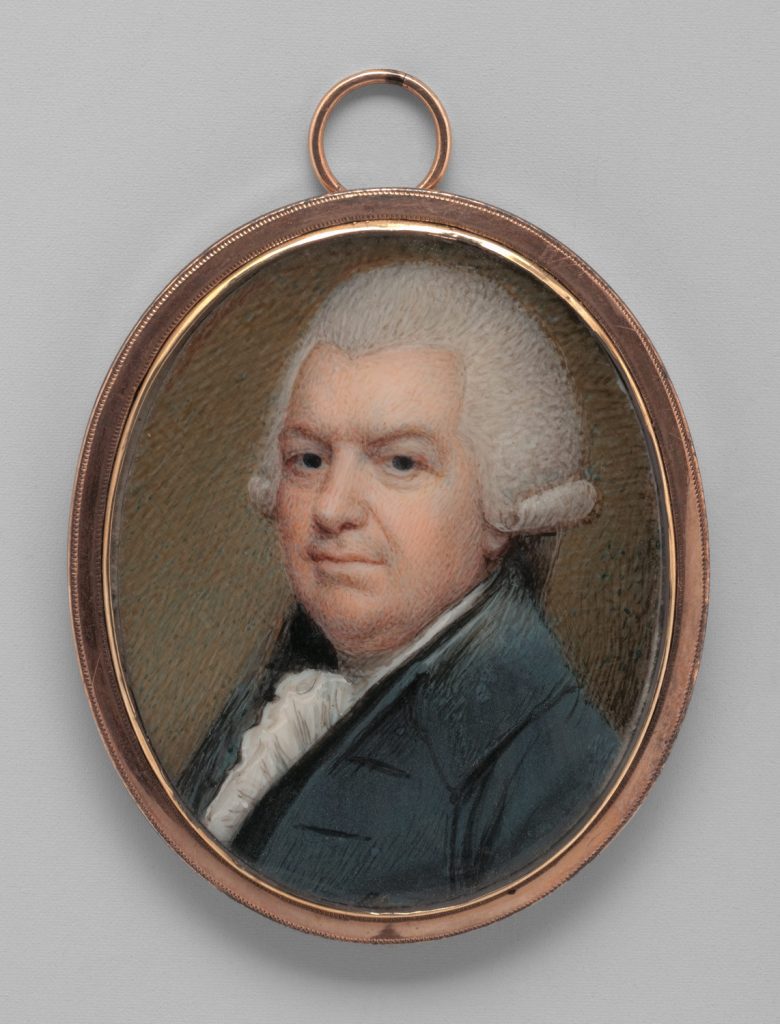 There is a portrait of Hooper's wife by Copley, which was loaned to the Museum of Fine Arts in Boston around 1911, but it's in a private collection, so there is no way to see what she looks like.
And Stephen Hooper moved in the rarified society of Newburyport, he "hung out" with folks like George Washington, Thomas Jefferson, John Adams, Aaron Burr, General Lafayette, and yet, now in 2016, it's really, really hard to find out much of anything about Stephen Hooper, an eminent and wealthy merchant who it was thought would always be remembered in our city's history. There is Dalton Street, the Dalton House, Tracy Mansion (the Newburyport Library) all reminders of his contemporaries, business partners, brother-in-law, friends, but no hint that I know of, that Stephen Hooper was once a "player" in Newburyport, Massachusetts.
Signature on a letter dated 1776 by Stephen Hooper

Piece of the envelope for the letter from Hooper, Newburyport 1776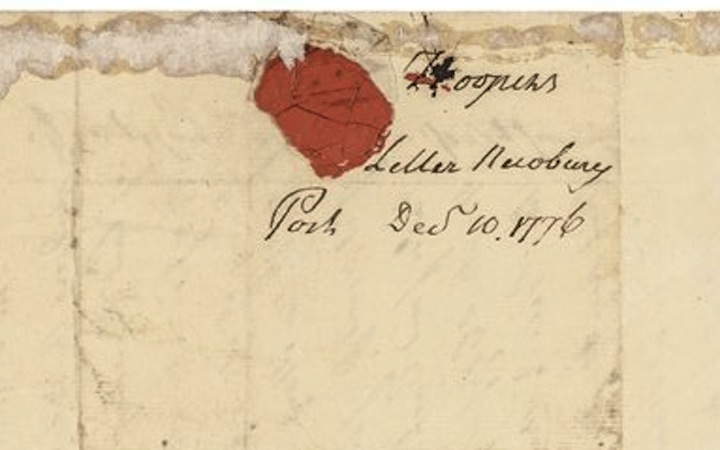 *"History of Newburyport Mass: 1764-1905," 1906, by John James Currier
**"From Common Land to Public Space: The Frog Pond and Mall at Newburyport, Massachusetts, 1765-1825″ by Martha J. McNamara, in "Shaping Communities, Perspectives in Vernacular Architecture," The University of Tennessee Press, 1997