A couple of people asked me to look into Tamsen Donner, I had never ever heard of her. And along the way I found out a few things about "the Wheelwrights" of Newburyport.
Tamsen was related to the Wheelwrights. Please bear with me.
Jeremiah Wheelwright (born 1732) married Mary Davis (born 1737) (of Gloucester) .
They had a bunch of children including:
Abraham (born 1757) (who is a very big deal in Newburyport, he built 77 High Street.)
Ebenezer  (born 1763) (father of William Wheelwright , who is a very big deal in Newburyport, he owned 75 High Street.)
Tamsen (born 1801)
75 and 77 High Street, Courtesy of Library of Congress, Historic American Buildings Survey,  Frank O. Branzetti, Photographer, Nov. 19, 1940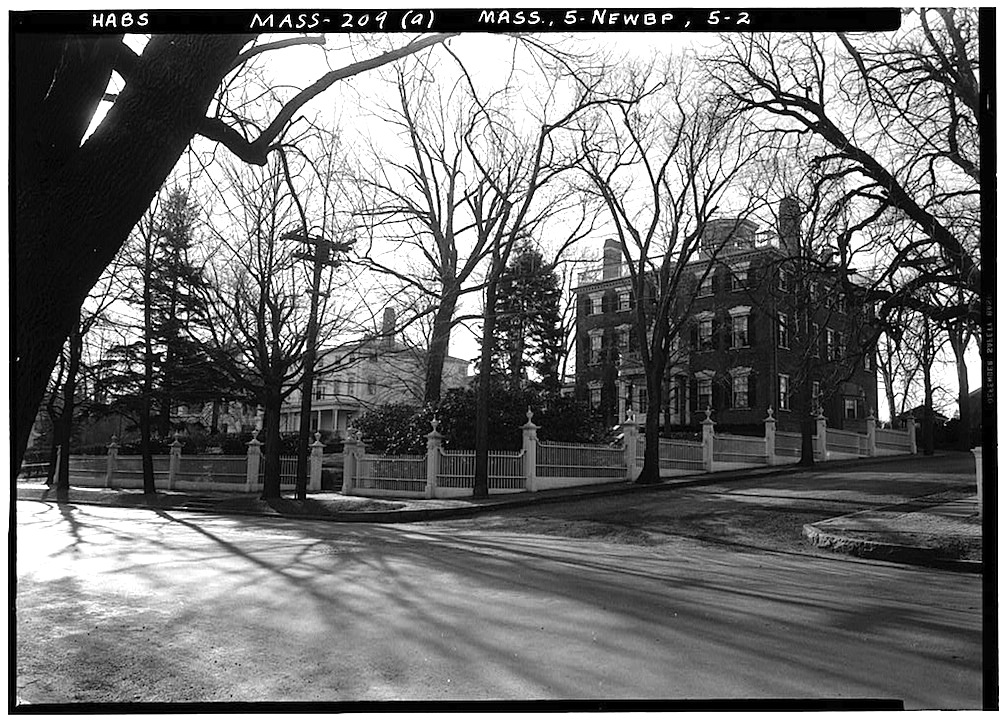 Jeremiah is first a school teacher and then an explorer, he died in 1778 in Gloucester or died of exposure in a campaign in Canada (there are conflicting accounts).*  His widow, Mary, "removed, with her family" from Gloucester to Newburyport. **3*  "The Wheelwrights" who have enhanced our city in so many ways, moved from Gloucester — and they, in today's Newburyport terms, were carpetbaggers.  Mary died in 1822 at the age of 85.
The daughter, Tamsen, married William Eustis in 1785 and they lived in Newburyport. They had a daughter also named Tamsen born in 1801, who eventually married George Donner in 1839. So Tamsen Eustis Donner is the niece of Abraham Wheelwright and the cousin of William Wheelwright.
There has been some question as to where Tamsen Donner was born. I was told by a friend that she was born on Milk Street. And yup, my friend was right. I was able to trace the deed of 50 Milk Street back to Tamsen's father, Willimam Eustis. And in the book, "Searching for Tamsen Donner,"** the author Gabrielle Burton mentions that Betsy Woodman had also told her that Tamsen was born at 50 Milk Street. So 50 Milk Street is a pretty significant place.
50 Milk Street, Newburyport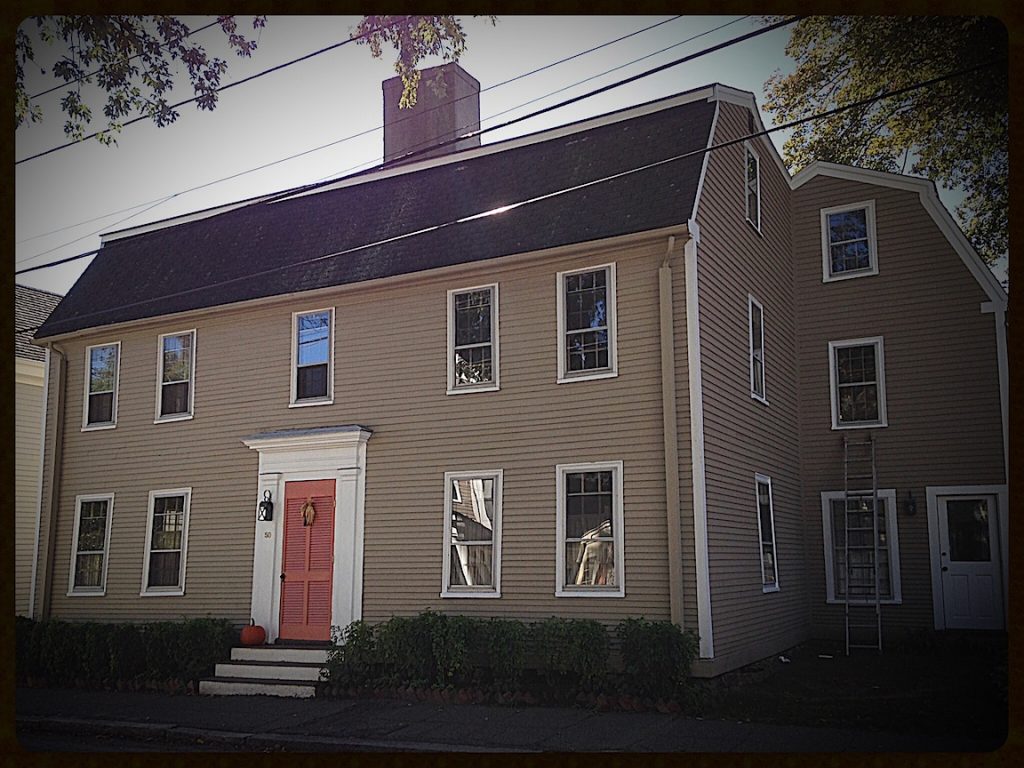 Tamsen Donner
Who is Tamsen Donner?  Tamsen Donner is a heroine in the infamous "Donner Party," a group of 87 pioneers who set out for California in a wagon train in 1846 and became trapped in the winter of 1846-1847 in the Sierra Nevada Mountains, what is now known as the  Donner Pass, and 39 people died. Some of the pioneers resorted to cannibalism to survive in what has been described as "one of the most bizarre and spectacular tragedies in Californian history and western-US migration." ***
"In 1836 she (Tamsen) journeyed to the home of her brother in Illinois (after she had lost her first husband and and child in North Carolina to influenza in 1831) to teach his motherless children, remaining with his family for one winter before obtaining a teaching position in a school in Auburn, Ill. The following year she moved to the school at Sugar Creek where she met George Donner, whose home was near Springfield. Donner, a native of Rowan County, N.C., was a wealthy and respected man, twice widowed with young children still in the home. They were married on 24 May 1839, and in the following years Tamsen Donner bore three daughters, Frances (4 July 1840), Georgia (3 Dec. 1841), and Eliza (8 Mar. 1843).
Tamsen Donner was an intelligent woman, proficient in mathematics, geometry, and philosophy; she was fluent in French, an avid botanist, a competent painter, and a writer of prose and poetry. She is described as a small woman, five feet in height with a usual weight of ninety-six pounds, richly but quietly dressed, gracious, and charming. She and her husband were members of the German Prairie Christian Church near Springfield
It is somewhat surprising that the Donner family chose to leave their wealth in Sangamon County, Ill., to undertake a hazardous journey by wagon to California in 1846. George was sixty-two years old; Tamsen was forty-four with three small children and two stepdaughters. In early May George, his brother, Jacob, and their families left Independence, Mo., with a sizable train and traveled west during the summer with little difficulty. Nearing the end of their journey, they were beset by bad judgment and weather and were snowed in near what is now called the Donner Pass. Nearly half of the travelers died from exposure and starvation during the winter of 1846–47. Those who survived resorted to cannibalism.
Although small in stature, Mrs. Donner remained in good health and able to care for her family. Her daughters were rescued by search parties, but she refused to leave her husband who was dying from an infected wound. She was last seen by members of the third rescue party. The fourth and last group found only one person alive in the camps. There was no trace of Tamsen Donner's body. She is presumed to have died between 26 March and 17 April 1847, approximately one year after leaving her home in Illinois." ****
Tamsen Donner is the heroine of this story because she chose to send her children on with the last rescue party, and stayed with her husband while he was dying, a choice that meant certain death for Tamsen. **2*
A portrait of Georgia A. Donner, one of the surviving children from "History of the Donner Party: a Tragedy of the Sierra" by Charles Fayette McGlashan, 1880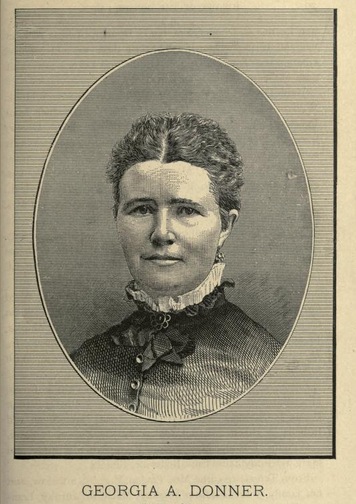 The Donner Memorial State Park, the site of the Donner Camp where the Donner Party was trapped has been designated as a National Historic Landmark, commemorating the greatest mass migration in American history in the 1840s and 1850s, enticed by the California Gold Rush, where over 250,000 gold-seekers and farmers traveled overland for the gold fields and rich farmlands of California — the Emigrant Trail. The park contains the Emigrant Trail Museum.
The plaque for Tamsen and Elizabeth Donner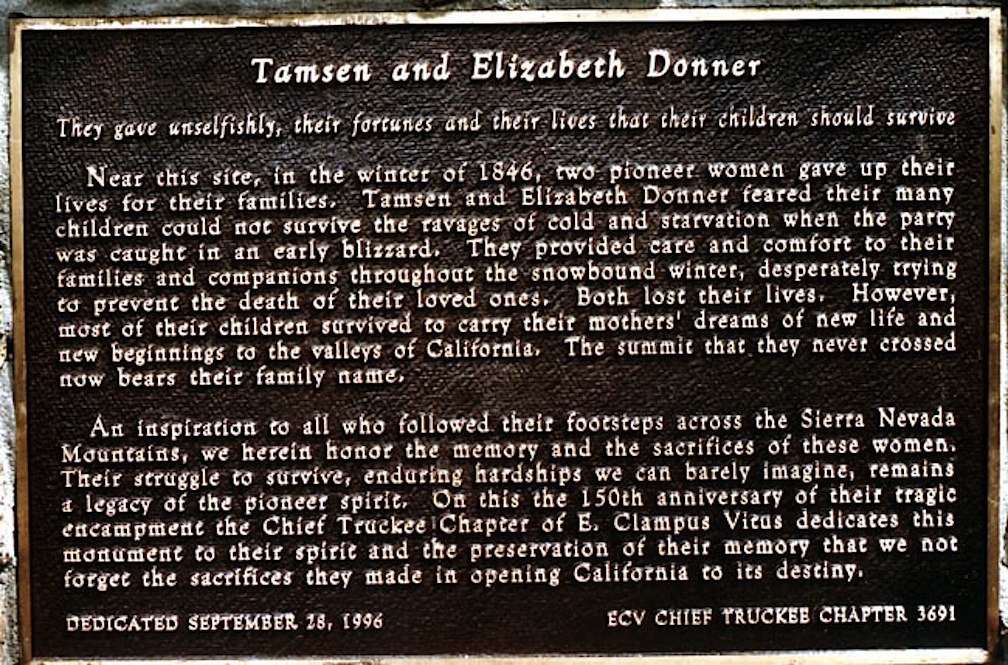 The plaque for Tamsen and Elizabeth Donner in part reads, "Near this site, in the winter of 1846, two pioneer woman gave up their lives for their families. however most of their children survived to carry their mother's dreams of a new life and new beginning to the valleys of California.
An inspiration to all who followed their footsteps across the Sierra Nevada Mountains, we herein honor the memory and the sacrifices of these two women in opening California to its destiny."
Wagon Train on the Emigrant Trail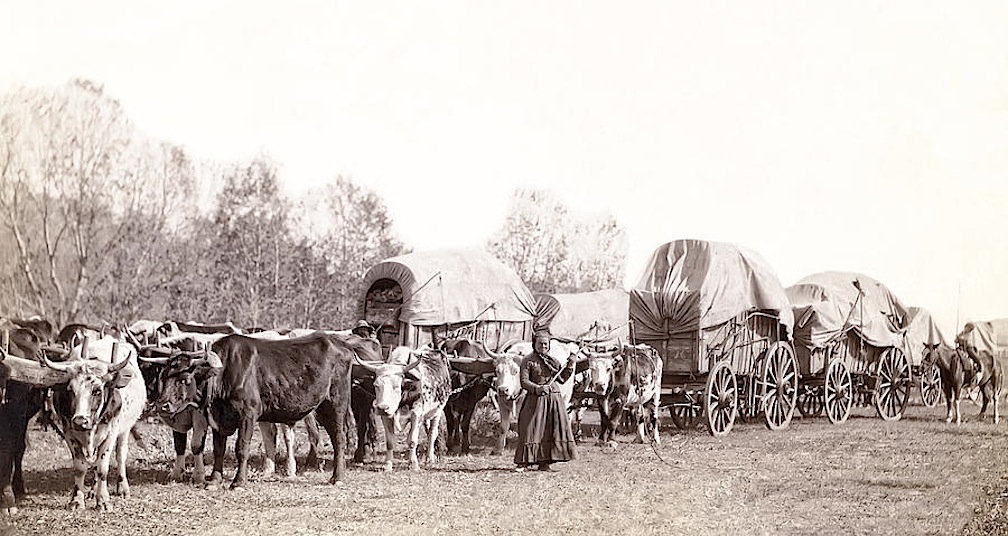 * "The Wheelwright Family Story, by Steve J. Plummer" 2010
** "Searching for Tamsen Donner" by Gabrielle Burton, 2009
*** "History of the Donner Party: a Tragedy of the Sierra" by Charles Fayette McGlashan, 1880
**** "Dictionary of North Carolina Biography" by Martha Nel Hardy, University of North Carolina Press
**2* Tamsen Donner Letters: From dream to Legacy
http://www.thestormking.com/Donner_Party/Tamsen_Donner_Letters/tamsen_donner_letters.html
**3* "Ould Newbury: Historical and Biographical Sketches" by John James Currier