The Boston Globe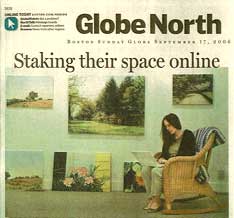 "…Mary Baker Eaton keeps her focus local, dissecting her city's latest politics from a laptop in her Newburyport painting studio…
… On any given day, blogs in the suburbs north of Boston are buzzing as people try to connect with kindred spirits or simply share information. Consider this recent posting from Eaton, 54, about subdivision plans for a historic property in Newburyport.
"The rape of the Ridge has begun," she wrote. "This is one of my worst nightmares for Newburyport, MA."
Eaton, a New York-born artist, passionate preservationist, and political junkie, launched her blog — Newburyport Political Blog (marybakerart.com/newburyport) — in January using an aging desktop computer and a dial-up modem. Her urge to blog sprang from an e-mail chain letter she helped create during a successful neighborhood campaign to protect a historic section of roadway.
"It's an immensely powerful tool for an activist," said Eaton, who has since graduated to a laptop and high-speed Internet service…
…Eaton usually posts at least one entry a day. She finds that musing about politics while surrounded by her paintings helps the creative process.
"Painting is very solitary. When I hit a wall, I sit down and start blogging," Eaton said. "It uses a whole different set of skills."…."
Staking Their Space OnLine, By Kay Lazar
© The Boston Globe, September 17, 2006
________________
The Newburyport Current
"…"People might think this is a huge operation," Eaton said of her blog, "but I'm just a 53-year-old woman with a computer and people chiming in."
Eaton launched the blog on New Year's Day. There was no grand plan, only a wish to have civil discussion on local political issues, she said. In a city where emotions tend to run high, issues drag on for decades and colorful personalities clash on a regular basis, Eaton saw the need for a place where people can take a deep breath, ponder and finally, write down their points of view…."
Putting the 'Civil' in Discourse, by Ulrika G. Gerth
© Newburyport Current, March 2 2006
________________
The Undertoad
"Little did Mary Baker Eaton realize she would become better known for her political opinions than her art. Soon after starting up her Newburyport Political Blog she became a player. Actually, she has been a player in the past. She rolled up her sleeves and went to work saving High Street as no one else in this city did when mayors and MassHighway would have raped and pillaged it. She has been outspoken in her stance for historic preservation and against those who would ignore it. She is not what one would consider a typical "player" because she's all about the city and not about herself. Her blog is thoughtful and intelligent and a much more insightful read on a daily basis than anything you will get in the editorial pages of the local paper of record. In only three months she has become a must read each morning…"
By Thomas R. Ryan
© The Undertoad, April 7, 2006
________________
The Boston Globe
"WEB NEGLECT – With the general election just over a month away, only eight of the 27 candidates running for office in Newburyport – mayor, City Council, or School Committee – are campaigning with websites or blogs. That surprises one of the city's more prominent bloggers, Mary Baker Eaton, who drew barbs following the 26 percent voter turnout in September's primary when she opined that residents are paying closer attention to Paris Hilton and coupons in the newspapers than the election. "Apparently the low, low price of hamburger is much more engrossing compared to having to figure out who to vote for mayor of Newburyport," she wrote. "Any candidate can have a Web presence because blog software is free," Eaton added in a phone interview. She is featuring a section on her blog, marybakerart.com/newburyport, that links to candidates' websites and blogs…"
By Kay Lazar, © Boston Globe, October 4, 2007
__________________
"www.marybakerart.com/newburyport – The original Newburyport blogger; writes on a wide variety of political issues."
Newburyport Daily News, October 8, 2007
__________________
"…engaging in fervent and relevant back-and-forth commentary… The Newburyport Blog…has been alive and well for many years."
The Newburyport Current, November 2, 2007
__________________
If you press this link it will take you back to the main page of Newburyport Blog.