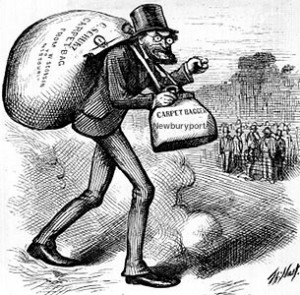 One Newburyport City Councilor (Dick Sullivan) got up in the Newburyport City Council chambers and lamented that all these "newcomers" were coming in and telling the folks who were born and raised here what to do.
Another Newburyport City Councilor (Tom Jones) got up (Thursday night) and said how Newburyport was a working class town, and seemed to intimate that it was still a working class town.  No it's not. In the year 2012, Newburyport is an upper-middle class city, quickly approaching a upper class enclave – especially when Mr. Karp starts building.
Honey, it ain't your father's Newburyport anymore.
If you haven't noticed the carpetbagger thing has really, really gotten out of hand lately.  You don't just have the carpetbaggers who came in the first wave, in the mid to late 1970's and very early 1980's,  right after Urban Renewal renewed.  There was a wave in the late 1990's after the MBTA came back to town. Remember that, a big housing spike when a lot of the old timers cashed in.  I remember folks saying  that it was a joke that anyone would want to live in Newburyport's South End. There was a lot of bitterness about how high the taxes had gotten because of the housing boom, but that money bought more house not so far away, in a place where there weren't so many doctors, lawyers and financial folks. Where the working class folks felt more comfortable.
And then the super duper influx around 2005, when Mr. Karp bought so much land and real-estate downtown.  Yup, and people have just kept coming, with more and more money, lots more money.  And the old-timers, the natives, they pay attention and they vote, but their numbers just ain't what they used to be.  It's not your father's Newburyport by any stretch of the imagination, no how, no way, any more.