One of the "perks" of being the editor of the Newburyport Blog is that I get to brag brazenly about my son.
The justification of course is "education," that a young man who went through the Newburyport Public School system could this day be doing Ok.
MY son, in NYC 10 months and in his fourth play. Yes, very proud Mom.
And the theatre company, Hipgnosis, has picked, for such a young, "hip" theater company, in today's world, a very politically incorrect play, "The Taming of the Shrew" (by William Shakespeare).
Could Mr. Shakespeare consider moi, a female blogger with an occasional strong, uncooperative opinion, a "shrew?" Goodness, who knows? Maybe.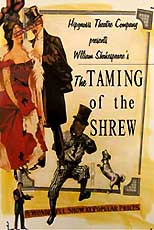 Hipgnosis Theatre
William Shakespeare
Taming of the Shrew
How did the Hipgnosis Theatre Company go about reconciling what could easily have been done in 1950, no problem, in the year of political correctness, 2007– the solution, a combination of Shakespeare and vaudeville. What can I say, I loved it.
A wonderful romp and what I considered a tongue in cheek approach to the "taming" part (which would be considered "spousal abuse" today) by the hubby and the "compliance" part by Kate, the "tamed shrew." Plus, by the end of the play, there was no doubt about it, it was real obvious, that they were real, real "hot" for each other. Sizzle.
For goodness sakes, Shakespeare, if he were around today, would be right. It's not until real, real recently, that women have gotten the privilege of speaking up about stuff (for which this female blogger and painter is most grateful, good grief) without being labeled a "shrew" or whatever nifty label equivalent. (Not that that doesn't still happen on occasion today.)
We've had millenniums, not just centuries of women not being able to have a "say." And it is this blogger's humble opinion, that it's not just in previous millenniums, centuries, decades that men like to have their women good looking, and to shut up and be quiet, and for goodness sakes do and say what you are told to say and do.
But in today's world, my goodness, there are equivalents. Take the "trophy wife" with a lousy pre-nup:
Darling the sky is purple.
Yes, dearest, the sky is purple. And now can I have my Mercedes-Benz?
Mary Eaton
Newburyport