The house that Abbie Built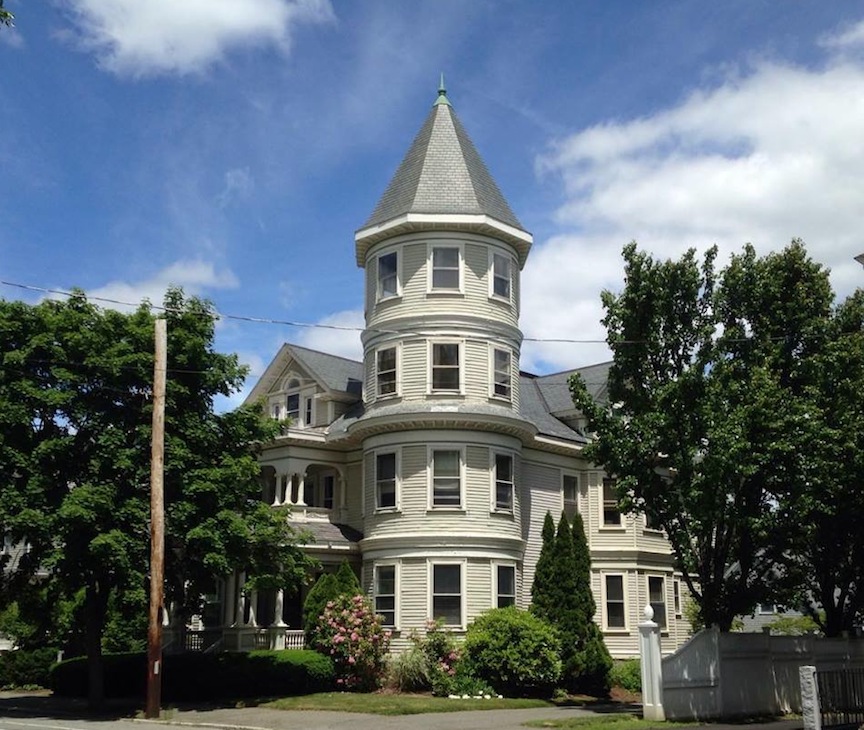 Abbie Foster seems to be one of those forgotten people with an intriguing story, and the story so far has a huge hole. In 1895 Abbie Foster built a HUGE Victorian McMansion on High Street. I've figured out a whole lot about Abbie Foster, but not how she got an astounding amount of money at age 49 to build that glorious Queen Anne house.
I started to get curious about all of this thanks to Jack Santo's project of "If This House Could Talk." Jack is trying to get folks to write something very short about their house and put it on a poster board during this year's Yankee Homecoming so that folks can walk around Newburyport and learn about the city's history. It's very cool.
I started to look into the history not only of my house but of our little Newburyport neighborhood.
In our neighborhood there is a short little dead-end street called Foster Court, and I found out that it was named after a woman, Abbie Foster.  I don't know of any street in Newburyport that is named after a woman, so I wanted to know more.
Abbie Foster was born in Newburyport to David Currier a shoe maker and his wife Mary Currier in 1846. They were working/middle class folks, Abbie had one brother and two sisters. Her sister Helen Currier never married and they lived together all of their lives, either with their parents, then boarding with their mother and after their mother's death, together.
I found an article in a 1886-1887 city directory about a "Fancy Goods" shop downtown, "A. L. Currier" and yup, that's Abbie. Here it is:
"Miss A. L. Currier, Laces, Trimmings, Jewelry, etc., No. 58 State Street. –The attractive lace, trimming, and jewelry establishment of Miss A. L. Currier, No. 58 State street (where the Book Rack is now, on the corner of Pleasant and State Streets), has for ten years been one of the popular shopping places for ladies of Newburyport and vicinity.  The store is arranged with taste, and the stock is always select and desirable.  Every fashionable article in laces, trimmings, gloves, and notions generally, the latest novelties in ladies' fancy goods, and all kinds of elegant jewelry, are to be had here at lowest possible prices, and satisfaction is uniformly guaranteed.  Miss Currier is a very prompt and reliable business lady.  She is a native of Massachusetts."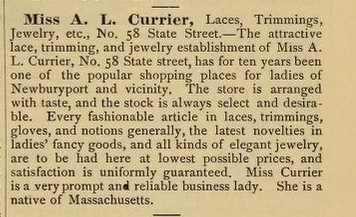 Abbie was single until she was 44, and in 1891 she married Daniel Foster who was 60. This was Daniel's second marriage, there were no children from his first. He came back to Newburyport in 1887 and seems to have boarded in different places, including where Abbie's family lived, which was 14 Spring Street.  Daniel died in 1893 only 2+ years after they were married.  Abbie was a widow for 20 more years.
AFTER Daniel dies, in 1894 the heirs of Solomon Haskell and Mark Haskell gave Abbie the land that she built her house on on High Street and the land that what was once known as Haskell field and is now known as Foster Court. They gave the land to her for $1. Abbie gives the right of way to the City of Newburyport in 1898 and it is named after her because she owns the land. Foster Court does not show up on any map until 1940.
The first question I had was why in the world would these folks give land for a $1 to Abbie?  I talked to Ghlee Woodworth and Melissa Berry and they both suggested that there was probably a family connection between the Curriers and the Haskells. And yup, after a lot of digging around, there was a connection, and I'm going with that they were distant cousins, and they gave her the land. It's the only thing that makes any sense.
And Ghlee Woodworth and Sharon from the Newburyport the Archival Center went and looked in City Hall for the tax records, and Abbie starts paying taxes on the land in 1896, which probably means she probably built the house in 1895, however, she did not take out a mortgage, so she must have built it with cash?  The tax records show that the house was worth $9,000 which in todays' money is somewhere around $250,000 and $300,000 but the house itself in today's market would be well over a million dollars. It's a fancy place.  Abbie did take out a mortgage for $10,000 from the Institution for Savings in 1910. I have no idea why.
I looked into Daniel Foster, her husband, thinking maybe the money came from him. But if he had that kind of money, why did he board all those years, why not buy a house. I've included the write-up of Daniel as well as the write-up of Daniel's father Thomas Foster, who among other things was a Revolutionary War hero, and owned N & T Foster with his brother Nathaniel Foster downtown in the building that is now called the Phoenix Building. Nathaniel was a clock and watch maker, and Thomas was one of the "old time" silver smiths, before Towle Silver existed, and many people apprenticed with him.  I thought the  money might have come from there. Some obviously did, but Thomas had a whole lot of children beside Daniel. I haven't found Daniel's will yet, it sounds like there was money, but not that kind of money, not the kind of money to build a High Street fancy mansion.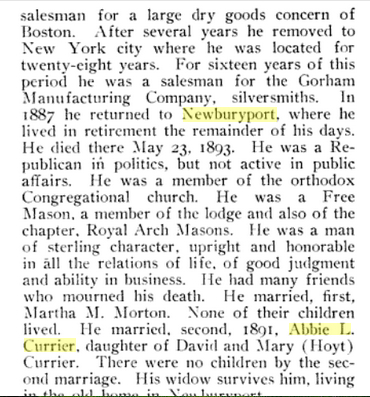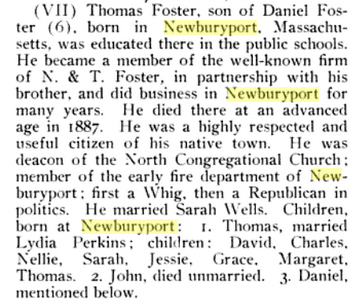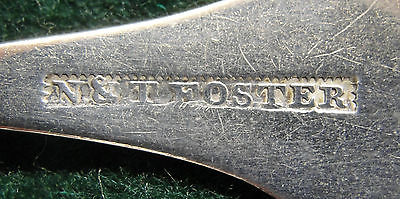 The other person I thought might have helped Abbie was her brother Warren Currier who lived at 190 High Street.  Among other things he was Mayor of Newburyport from 1873-1874 and was a partner in Summer, Swasey and Currier a very successful shipping merchant business at 45 Water Street. I did find Warren's will, and he gave Abbie maybe around $1,000, big bucks, but not enough money to build a $9,000 house on High Street.
Helen Currier, her unmarried sister who lives with her all her life and dies in 1901, living at 74 High Street, had first been a school teacher and then the principal at a school on School Street (I'm assuming it was or became the Jackman School). I looked up the salary of a woman teacher and it was miserable, enough to help support her mother and father, but not much more than that. No money there.
So Abbie builds this spectacular house at 74 High Street. The 1900 census shows that she lives there with her sister and a servant.  The 1910 census shows that she is living alone in that great big house with one servant. She lives there for 17 years. This is far, far away from where she grew up as a shoe-maker's daughter.
And I found someone who knew someone who remembered Abbie, someone who lived in the neighborhood. He referred to her as "Old Lady Foster." Abbie was in her 50's and 60's when she was referred to as "Old Lady Foster."
And I found a write-up of her funeral. Not an obituary, and no obituary for her sister Helen.  A write-up. Here it is:  "The funeral of Mrs. Abbie Louise Foster, widow of Daniel Foster was held from her late residence, 74 High street, yesterday afternoon. Rev. C. S. Holton officiated. There was a large number of friends and relatives present."  The pallbearers were her doctor, another doctor in town, her neighbor at 62 High Street and a clerk at one of the banks. No family.  It doesn't include any glowing details of how wonderful she was, what church and organizations she belonged to the way many of the write-ups in the newspapers seemed to do (at least all the ones I saw when I was going on a hunt for Abbie's obituary).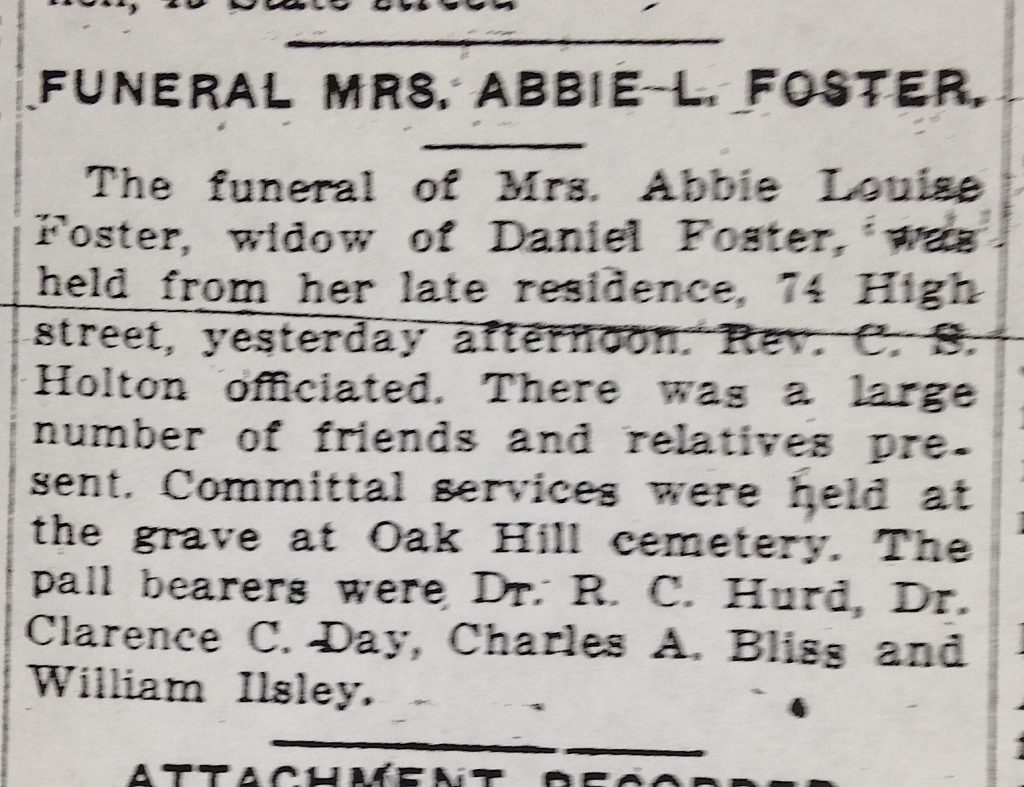 And I asked around at the Archival Center at the Newburyport Library as to what folks thought it meant. I know when I moved here in 1981 there was still a very strong class system here in Newburyport. There was still the upper crust on High Street and then everyone else, and it was even more pronounced earlier in the century. "Old Lady Foster" for me is kind of a derogatory term. Maybe she "made it" and was accepted by the folks on High Street, or maybe not. I'm hoping that when the old newspapers from the 1890's which are being digitalized by the Library's Archival Center come back sometime this summer, maybe I'll know more. Maybe I'll find out some more answers about Abbie Foster and the house she built on High Street and where she got all that money.
Many thanks to the Newburyport Library's Archival Center and all the wonderful people who work and volunteer there. I found a lot of stuff on Google and FamilySearch.org is pretty amazing along with Salem Deeds online, salemdeeds.com.