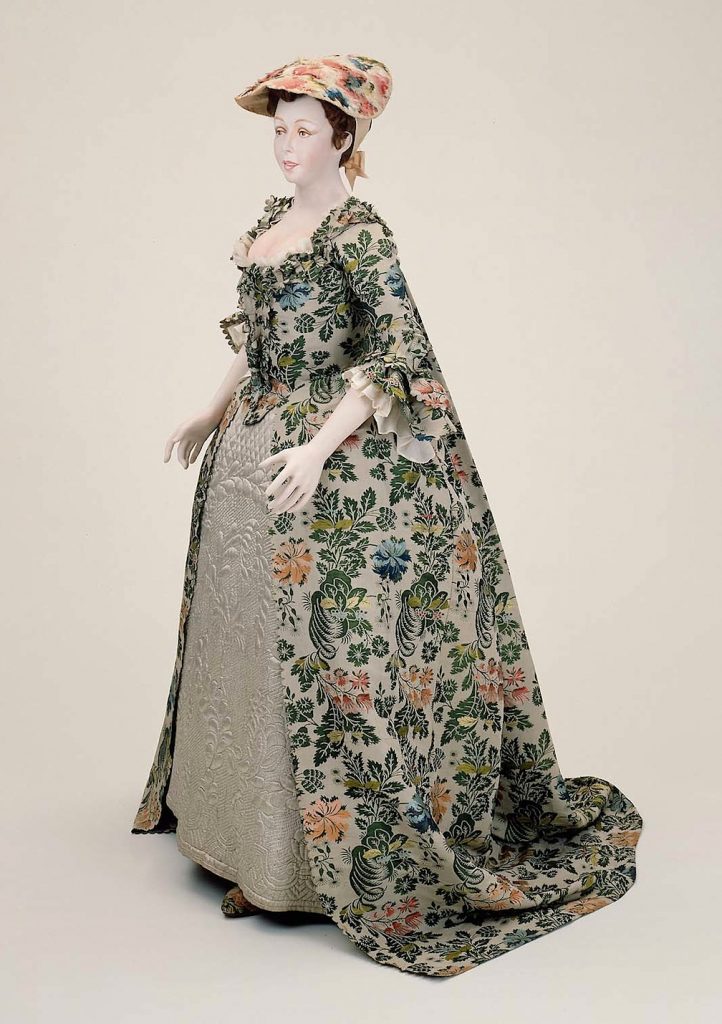 Wedding dress worn by Mary Beck at her marriage to Nathaniel Carter, Newburyport, Massachusetts, September 1, 1742, the Museum of Fine Arts, MFA, Boston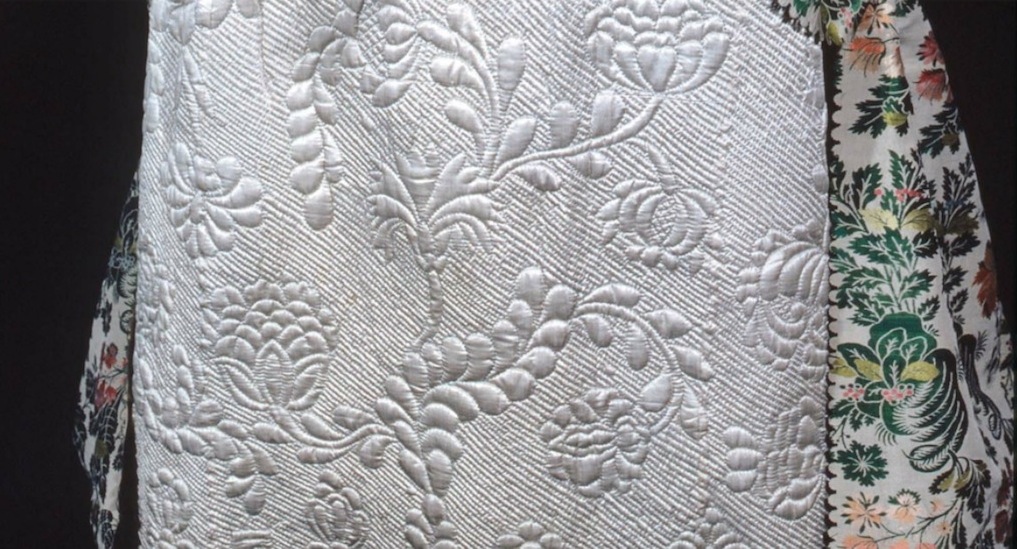 Detail of the wedding dress

Detail of the shoes and wedding dress

The formal wedding announcement of the marriage of Nathaniel Carter to Mary Beck
I found this wedding dress by chance, and I recognized the name. Nathaniel Carter was Rev. Thomas Cary's father-in-law (see earlier post). Thomas Cary married Nathaniel Carter's daughter Esther Carter in 1775.
After I wrote the post I discovered a deed from 1775 to Thomas Cary and his wife from Mr. Carter.
Here is a transcript of part of the 1775 deed (Page: 134 & Book: 148) from Nathaniel Carter "in consideration of the love and affection I bear to my son-in-law Thomas Cary and to Esther his wife my daughter land lying in Newbury-Port containing about two and a quarter acres with the dwelling house barn thereon on a highway called High Street"  dated August 12, 1775.

Deed to Thomas and Esther Cary from Nathaniel Carter
Nathaniel Carter was born in 1715 and died in 1798.  He was a wealthy Newburyport merchant* and a large landowner. He married Mary Beck in 1742 and had 9 children, Esther was one of his daughters.
Nathaniel was one of the people who urged Newburyport to become a separate town from Newbury in 1764. He was Newburyport's first treasurer. Carter was interested in education — two writing schools and one Latin grammar school for boys. One schoolhouse was on the upper side of Winter Street (near where the Kelly School building is), and the other was on School Street (land where the Jackman School once stood). He was  was one of nine people who petitioned for a bridge crossing the Merrimac River at Deer Island.  He owned land in what was then referred to as the "old part of town" as well as large tracts of land in Newburyport near the Deer Island. He owned land on High Street between Broad and Carter Street which extended slightly past what is now Munroe Street (I would imagine that Carter Street is named after him) and between Carter and Buck Streets.**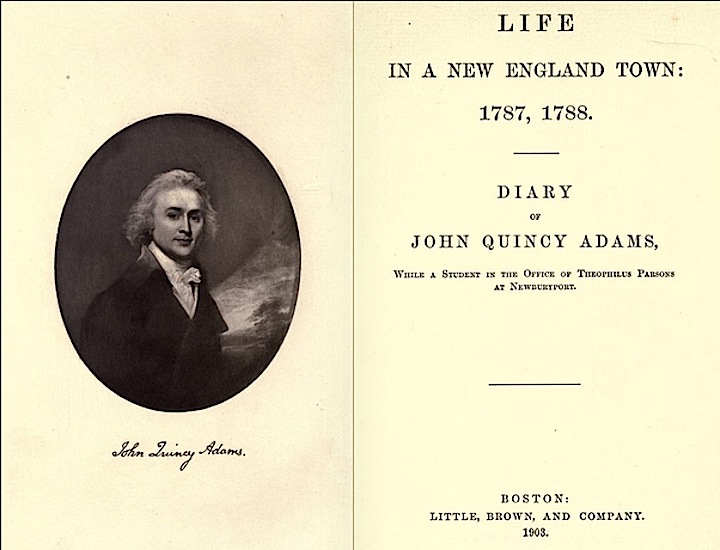 In the Diary of John Quincy Adams (September 13, 1787) I found his account of dining with Nathaniel Carter:
"Dined with Dr. Kilham at Mr. Carter's. This is a very friendly, obliging old gentleman, about 73 years of age, as I collected from his conversation: he is very sociable, and is a great genealogist. He gave me a much more circumstantial account of my ancestry, for four or five generations back, than I had ever known before, and I am told he can give the same kind of information to almost any body else. He has two sons with him, both I believe between 25 and 30 years old and one daughter: one of his daughters was married in the beginning of the summer, to Mr. W. Smith of Boston and his eldest son, proposes to be married in the spring to Miss Eppes Cutts, who has made her appearance heretofore in this journal. Her sister, Miss Nancy Cutts is now upon a visit at Mr. Carter's, and dined with us. I think she is handsomer, and that her manners are easier than those of her Sister. How the comparison might be, in mental qualifications I am not able to decide." *

Signature of John Quincy Adams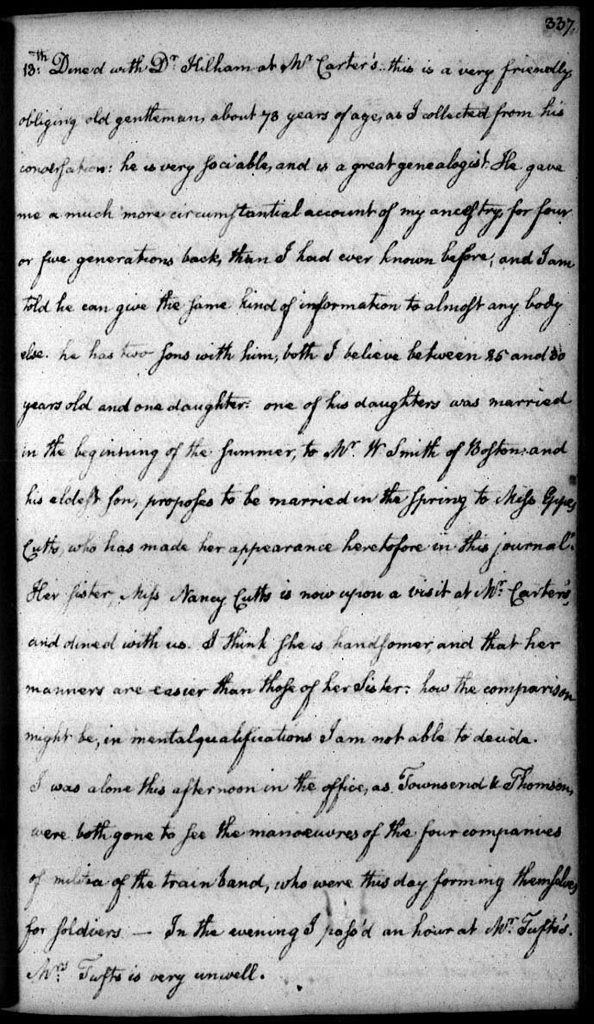 The actual page from John Quincy Adams Diary describing his account of dining with Nathaniel Carter ***
Unfortunately I could not find any portraits of either Nathaniel or his wife, and was not able to figure out where they lived in Newburyport. He was a contemporary of Patrick Tracy who built Tracy Mansion (the Newburyport Public Library).
This wonderful wedding dress was, by happy circumstance, what I discovered.
_____________________________________________________________________________________
* Diary of John Quincy Adams, Volume 2, September 13, 1787, Founding Families: Digital Editions of the Papers of the Winthrops and the Adamses, ed.C. James Taylor. Boston: Massachusetts Historical Society, 2016.   http://www.masshist.org/apde2/
** "North End Papers 1618-1880, Newburyport, Massachusetts: Development of the North End of the City" by Oliver B. Merrill, Originally published in the Newburyport Daily News 1906 &1908, transcribed by Margaret Peckham Motes 2007
***  John Quincy Adams diary 11, 1 July 1786 – 31 October 1787, page 337 [electronic edition]. The Diaries of John Quincy Adams: A Digital Collection. Boston, Mass. : Massachusetts Historical Society, 2004. http://www.masshist.org/jqadiaries
Original manuscript: Adams, John Quincy. John Quincy Adams diary 11, 1 July 1786 – 31 October 1787. 2 + 377 pages (2 unnumbered pages, including handwritten title page, preceed numbered pages; pages 1-134, and 137-376 are numbered, pages 135-136 are blank and unnumbered, page 377 is unnumbered). Page dimensions: 17.2 cm x 12.1 cm (6-3/4 x in. 4-3/4 in.). Original manuscript from the Adams Family Papers, Massachusetts Historical Society.
A 2003 grant from Save America's Treasures, "Conservation of the Diary of President John Quincy Adams," enabled the Massachusetts Historical Society to clean and deacidify soiled and brittle pages of the original manuscript volumes and to repair pages with paper loss, tears, or holes. Loose sheets of paper were hinged and tipped-in, and loose signatures were resewn. A conservation bookbinder repaired broken and damaged spines and covers on twenty-five of the fifty-one volumes. Because all of the bindings are original to John Quincy Adams, the conservation treatment was minimally invasive, because the diaries are artifacts worthy of study in their own right. The diary volumes now are stored in microchamber cases.