After I put up the post on Stephen Hooper (see earlier post) I got an email about his sister, a clue, which, with some research, gave me a huge glimpse/understanding of what his life must have been like back then in the second part of the 1700s.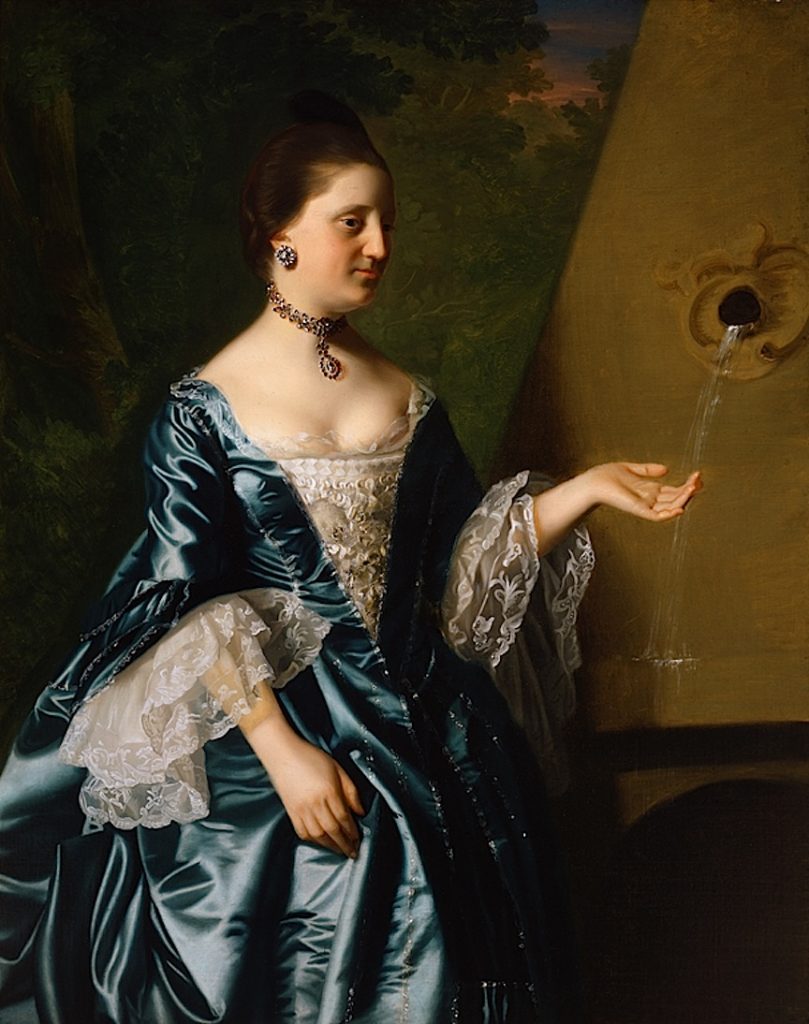 Portrait of Alice Hooper (Stephen Hooper's sister), 1763, by John Singleton Copley, The Milwaukee Art Museum
Stephen Hooper had a number of brothers and sisters, including two sisters who came to Newburyport.  Ruth, who married Tristram Dalton (The Dalton Club, that Dalton) and Alice, who first married Jacob Fowle Jr, and then as a widow married Joseph Cutler. Stephen, Alice and Ruth were the children of Robert "King" Hooper (see earlier post) the wealthiest merchant in Marblehead.
Alice Hooper Fowle Cutler is not one of those Newburyport folks who has been forgotten. A brief biography is on the website of St. Paul's Church and she is mentioned on the website of the Clipper Heritage Trail. John Singleton Copley did a portrait of her that now hangs in the Milwaukee Art Museum, which was painted around 1763, depicting the young lady who was at that time seventeen years old, and whose portrait was painted in honor of her engagement to Jacob Fowle, Jr.
Alice moved in the same social circles as her brother Stephen Hooper, her sister Ruth (Mrs. Tristram Dalton) and their friends such as Nathaniel Tracy (Tracy mansion, the Newburyport Library, that Tracy).
I found this incredible and fascinating description of what life was like for these then "rare and important" people in Newburyport in the second half of the 1700s in Newburyport.
"Tristram Dalton, on his marriage with Miss Hooper, of Marblehead (Ruth), reached home (Newburyport) in this style: "His splendid new carriage was drawn by six white horses, decorated with white feathers; they hold four outriders, and footman and coachman dressed in new liveries." So they rode down State Street, with the carriage-top thrown back." *
And this extraordinary and really interesting description of Nathaniel Tracy:
"Nathaniel Tracy's education was the best the country could afford. He was graduated at Harvard in 1769, and was in the vigor of his early manhood during the Revolution. His residence was the building on State Street now used for the Public Library, and, with his means and cultivated taste, it was one of the most attractive places in the Commonwealth. It abounded in all that heart could wish. His slaves — for that was the era of negro slavery in Massachusetts — served the guests at his tables, and they were not unfrequently the most distinguished men of this and foreign lands. His carriages, with liveried drivers, six in hand, and outriders, were such as have never been seen in the town since his day. He owned several country seats, summer retreats, hunting-grounds, and fine fish-ponds, with other conveniences and attachments such as would have become a British lord." *
What is amazing is that Stephen Hooper's father, Robert "King" Hooper, was bankrupt when he died. Stephen Hooper's fortune was only a fraction of what it was when he died in 1802. Both Tristram Dalton and Nathaniel Tracy lost everything by the time that they died.  Yikes.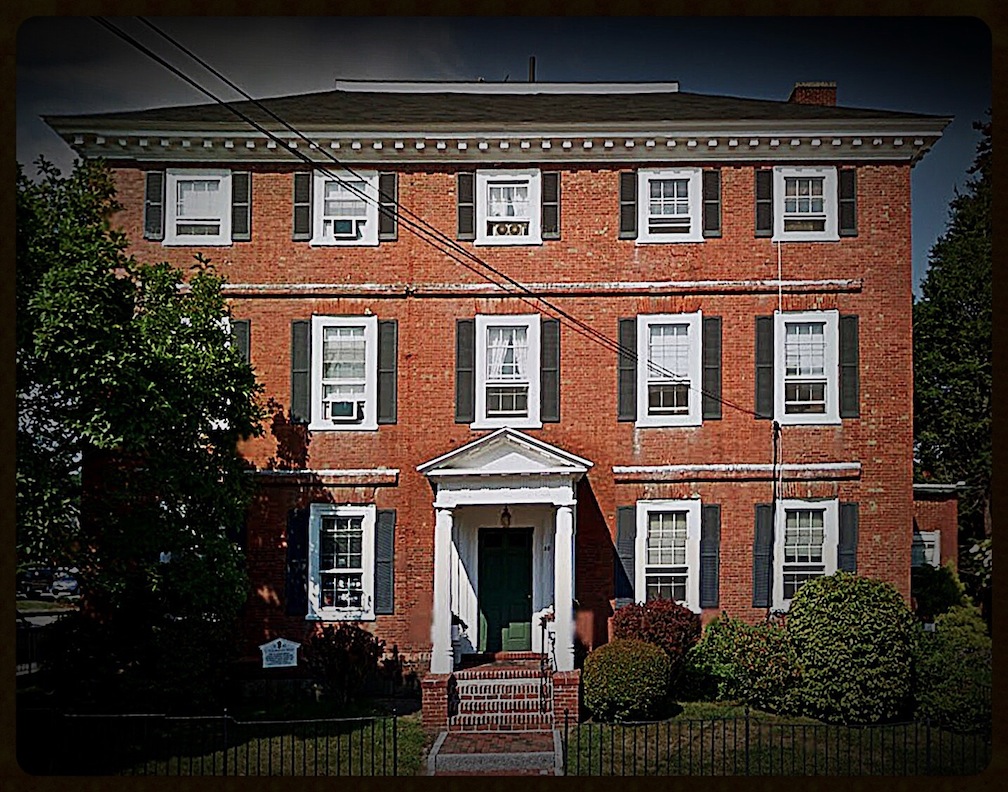 32 Green Street, Newburyport, MA
Alice and her second husband, Joseph Cutler, settled at 32 Green Street in 1787, a gorgeous Georgian three story brick building that still exists today.
According to the gentleman who emailed me, both of Alice's husbands when they died left her with children, no fortune, and no means of support. Apparently she ran a rooming house in that beautiful building on the corner of Washington Street and Green Street as a way to make ends meet.  According to the Newburyport's historic survey on the house, as well as the deed, in 1810, the house was divided in two, and Alice must have lived in one half and the wife and heirs of Joseph Bartlett lived in the other half.  Alice died in 1826 at the age of 81.  Alice is buried at St. Paul's church between her two husbands, Joseph Cutler on the left and Jacob Fowle Jr on the right. ( Joseph Cutler died in 1801 and her first husband Jacob Fowle Jr died in 1778.)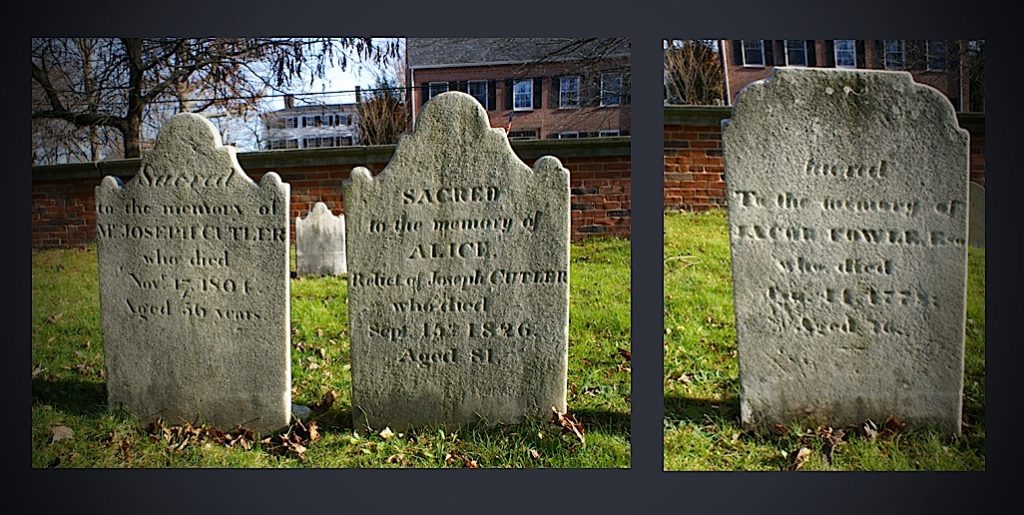 Alice's grave at St Paul's Church in Newburyport, between the graves of  her two husbands, Joseph Cutler on the left and Jacob Fowle Jr. on the right.
* "‪Standard History of Essex County, Massachusetts‬: ‪Embracing a History of the County from Its First Settlement to the Present Time, with a History and Description of Its Towns and Cities. The Most Historic County of America‬" by  ‪Cyrus Mason Tracy‬,  ‪Henry Wheatland‬, ‪C. F. Jewett & Company‬, 1878