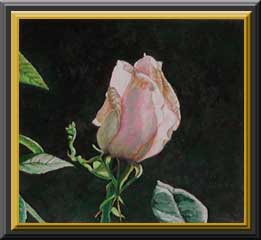 Rose
Oil on Paper
7" x 8"
Mary Baker
(A rose discovered in a backyard garden on Water Street)
Mary Baker Eaton moved to Newburyport, Massachusetts in 1981. All it took was driving down Newburyport's historic High Street to convince Mary that this was the place she wanted to live.
In 1999 Mary became hooked on politics when she helped the fight to save historic High Street. Since then she has worked behind the scenes on various political and civic projects. Mary is an advocate for Newburyport's historic preservation, and she was also one of the founders of the grass roots organization Save Our Town.
One of Mary's passions is Newburyport's beauty and historic character. And trying to help preserve that quality is one of the reasons she started The Newburyport Blog on January 1, 2006.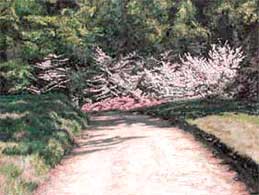 Azales
Oil on Canvas,
18" x 24 "
© Mary Baker
(The azaleas and path in this painting can be found at Maudslay State Park in Newburyport, Massachusetts)
Mary is also a professional artist. Her professional art name is Mary Baker. People in the civic and political world in Newburyport, Massachusetts know her as Mary Eaton (hence all the confusion about Mary Baker, Mary Eaton, Mary Baker Eaton on The Newburyport Blog.)
Mary has her artist's website which is called Mary Baker Art. And not only that, Mary also has an art blog called called Mary Baker Art-Blog.
For a number of years Mary has painted the flowers around her neighborhood in Newburyport's South End. You can see one that she discovered in a hidden backyard on Water Street in Newburyport, Massachusetts at the top of this page.
Mary is also mostly known for her paintings of landscapes. And Mary, like so many other people who live or come to visit Newburyport, Massachusetts, has fallen in love with Maudslay State Park, so she included two paintings that she has done of Maudslay on this page.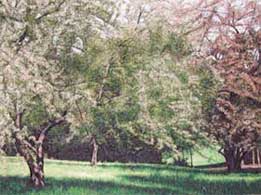 Apple Trees
Oil on Canvas
36″ x 48″
© Mary Baker
(The apples trees can be found at Maudslay State Park in Newburyport, Massachusetts.)