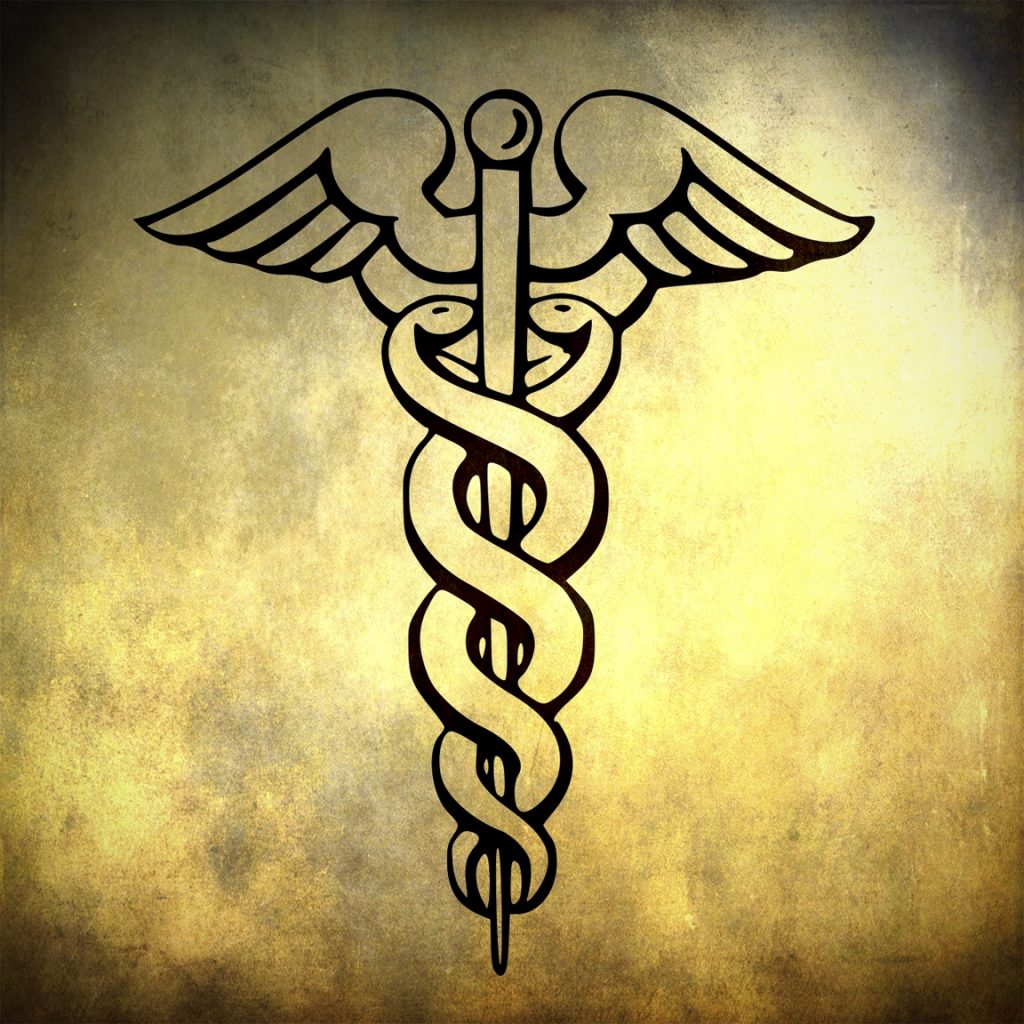 For a while now, I've kept The Newburyport Blog very local, but after watching the Republican Senate vote against all matters of healthcare including the ban on pre-existing conditions and the ability to keep one's child on your health insurance until they are 26, proposals that the American people overwhelmingly support, that's definitely changed, at least with this post.
27% of Americans have pre-exisisting conditions.
(If you want your heart completely broken click on the Twitter hashtag #the27percent)
What the Republicans are proposing instead of a ban on pre-existing conditions  that exists now in the Affordable Care Act (ACA) is something called "high risk pools." This is an abominable idea.
Obamacare: The dirty little Secret of "repeal and replace, by Walecia Konrad, CBS News, January 12, 2017
"For sick patients who cannot continue coverage, (Paul) Ryan's plan calls for a return to state-run high-risk pools. These pools allow sick people to buy insurance separately, while states, insurers and the federal government help subsidize the cost. The president-elect's website says he supports risk pools.
"Risk pools have a long and controversial past. Before the ACA was passed, 35 states ran risk pools for people with preexisting conditions ranging from cancer and diabetes to more minor afflictions such as arthritis or eczema. Premiums for risk pool coverage were as much as 250 percent more than a healthy person would pay for individual insurance, and some states, overwhelmed with sick patients, had wait lists for coverage or imposed other restrictions, said Fish-Parcham (Cheryl Fish-Parcham).
"Going back to risk pools is going back to the bad old days," she said.
Expense wasn't the only problem. Even when the few patients who could afford it paid ultrahigh premiums, coverage was often lacking. It wasn't unusual for people with a preexisting condition to wait six months to a year before coverage for that condition would kick in, Fish-Parcham  explained.
Or there might be a lifetime maximum on the benefit related to a preexisting condition, she added. So, if you had a stroke and needed a year of rehab, your insurance might not have covered the entire bill.
Ryan's plan would ban wait lists and put a cap on risk pool premiums. In addition, he's calling for $25 billion in federal funding to help states pay for risk pools. But many health care experts wonder if that's enough to cover the number of estimated people with preexisting conditions.
"High-risk pools served only 1 percent of the population back in 2008," said Fish-Parcham. That wasn't anywhere near the number of people who needed coverage but couldn't afford it, she noted, adding: "Risk pools simply didn't work."
The link to the article can be found here.
The other thing is the Repeal of the ACA effects everyone.
Andy Slavitt who has been the Acting Administrator at the Centers for Medicare and Medicaid put out this astounding bullet-point "document" on his Twitter feed the other day. It's called the "Am I impacted by ACA repeal?" Checklist, the link can be found here.
Here is the "Am I impacted by the ACA repeal?" Checklist that went up on Twitter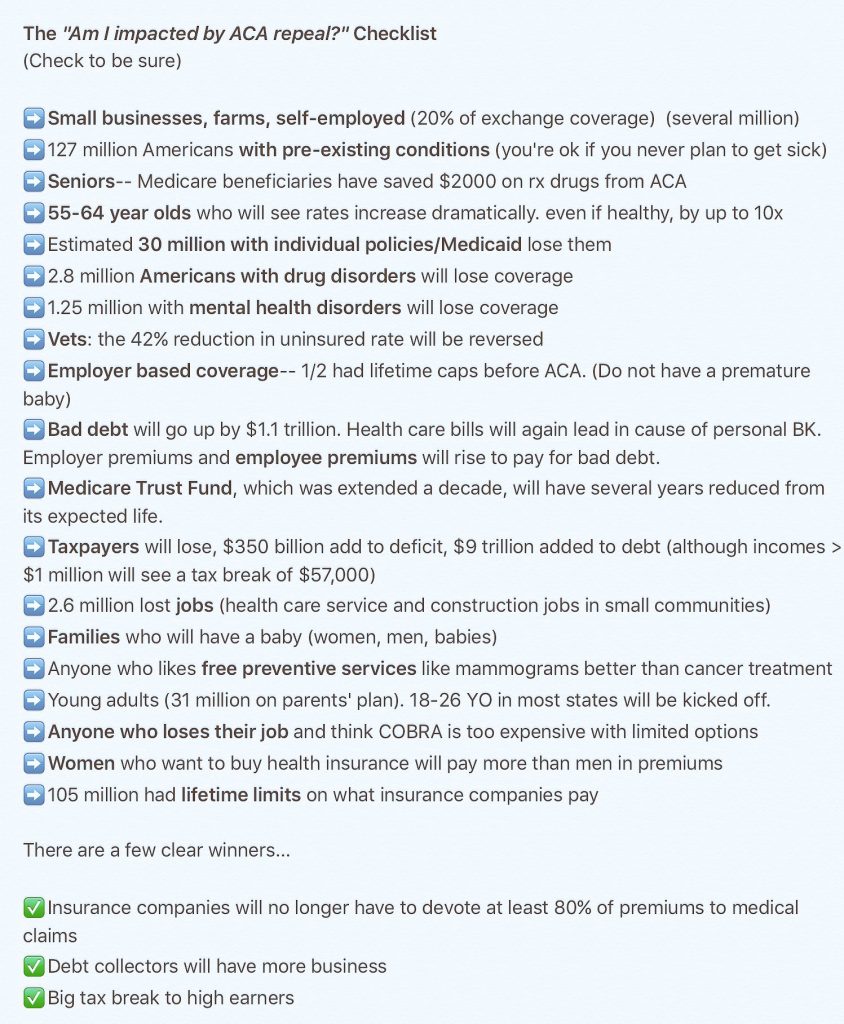 Here is the checklist with links, that went up on Twitter.  A document with the links can be found here.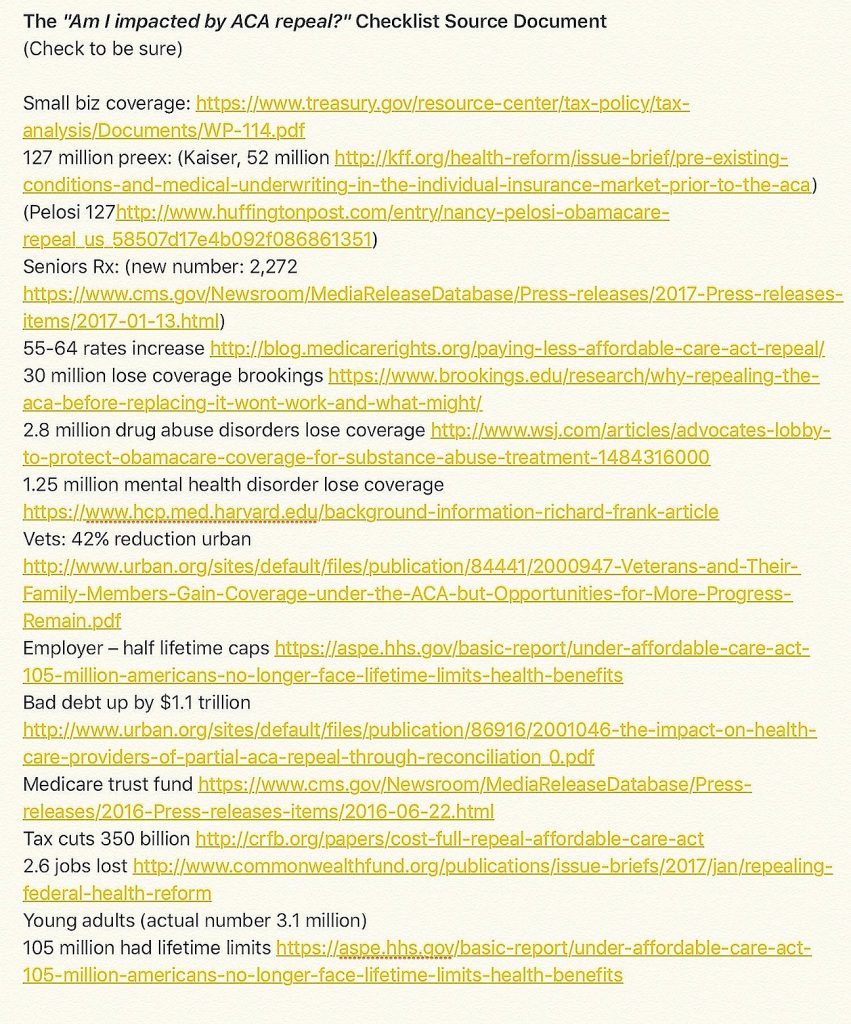 And here is the transcription of the checklist. And yes, everyone will be impacted by the Republican Replace and Repeal of the ACA.
"Am I impacted by the ACA repeal?" Checklist
Repealing ACA means:
* Small businesses, farms, self-employed (20% of exchange coverage, several million)
* 127 million Americans with pre-existing conditions
* Seniors — medicare beneficiaries have saved $2000/year on RX drugs from ACA
* 55-64 year olds who will see rates increase dramatically, even if healthy by up to 10x
* Estimated 30 million with individual policies/Medicaid will lose them
* 2.8 million Americans with drug disorders will lose coverage
* 1.25 million with mental health disorders will lose coverage
* Vets: the 42% reduction in uninsured rate will be reversed
* Employer based coverage– 1/2 had lifetime caps before ACA (do NOT have a premature baby!)
* Bad debt will go up by $1.1 trillion. Health care bills will again lead in cause of personal bankruptcy
* Medicare Trust Fund, which was extended a decade, will have several years reduced from its expected life
* Taxpayers will lose $350 billion added to deficit, 9 trillion added to debt (but incomes > $1 million will see a TAX BREAK of $57K)
* 2.6 million lost jobs (health care service and construction jobs in small communities)
* Families who will have a baby
* Anyone who likes free preventive services like mammograms better than cancer treatment
* Young adults (31 million on parents' plan). 18-26 YO in most states will be kicked off
* Anyone who loses their job and think COBRA is too expensive with limited options
* Women who want to buy health insurance will pay more than men in premiums
* 105 million had lifetime limits on what insurance companies pay
There are a few clear winners…
* Insurance companies will no longer have to devote at least 80% of premiums to
medical claims
* Debt collectors will have more business
* BIG tax break to high earners
Source: Andy Slavitt on Twitter
And here is a list of Pre-Existing Conditions before the ACA for which you were denied coverage (this is only a partial list).