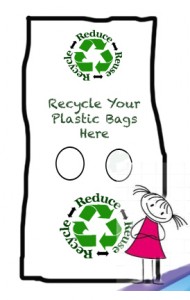 I really like the idea of a single use plastic bag recycling slurping machine. (Please see earlier entry here.)
First of all, the plastic bag industry has a huge PR problem on their hands. The sustainable bag folks are right, plastic bags are wandering around not only our local environment, but all over the place.  And the approach at the moment is to ban them outright, which causes all kinds of friction in communities, all over North America.
And it's time that the plastic bag folks worked with environmentalists instead of against them, because for the plastic bag industry it comes down to keeping your product which equals = $$ money.
For example, If you had a recycling machine that slurped plastic bags (without slurping in little hands that might feed them) for either a small amount of money, or maybe something like points that could be redeemed for money, you could be a hero to young mothers and fathers everywhere. What little child wouldn't be mesmerized by machine that slurps plastic bags.
If a young mother or father who needs to go to the grocery store, and young Emma or Aiden is tired and cranky and doesn't want to go to the grocery store, the young parent can say, "Honey, if we go to the slurping plastic bag machine first, will you help mommy or daddy go grocery shopping, and then we can use the rest of the plastic bags at the slurping machine when we're done." It might be a real incentive to a) recycle plastic bags and b) go cooperate with their parents at the grocery store. You, plastic bag company,  become a hero.
On one of those horrible rainy days when kids are stuck inside, a trip to your local supermarket or wherever, where young kids can feed in plastic bags to the plastic bag recycling slurping machine, could be a real godsend for something fun + practical to do.  Been in those parents shoes, know what it's like.
And if little Emma or Aiden can make some money to boot, they are going to be begging their neighbors, their Nana for their plastic bags to take to this fun plastic bag slurping recycling machine.  Pretty soon, Emma and Aiden, whether they are environmentalists or not, learn about recycling because it's fun, and they get lots of positive feedback from helping people as well.
Schools could have fundraisers using the plastic bag recycling slurping machine, make a little money, and learn how to help the environment while they are doing it. And you plastic bag industry look great.
The plastic bag recycling slurping machine wouldn't be good just for Newburyport, it would be good for everyone all over the world.  The plastic bag folks could then help solve a world wide problem, and be heroes instead of the goat.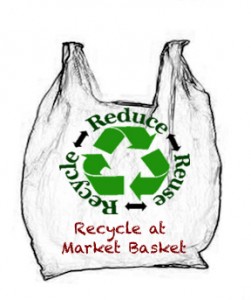 The other thing, is that the production of the plastic bag recycling slurping machine would help create a whole new industry and lots of new jobs (preferably here in Massachusetts).
This also assumes that people know loud and clear where to take those single use plastic bags.  Having great big huge "Reduce, Reuse, Recycle" logos on plastic bags, and exactly where to return them, would be real easy to legislate (much easier than an outright ban). And plastic bag industry, why not beat the government to the punch, and do that yourselves. Again, you would be heroes, instead of the people known for causing a major environmental problem.