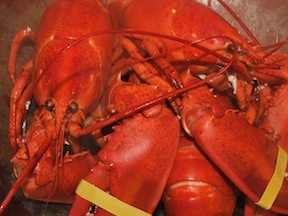 The best, safest, gluten free takeout food in Newburyport is from David's Fish Market over the bridge in Salisbury (one of the best seafood markets ever).
David's Fish Market has been a family owned and operated business for over 50 years.  It was started by Arthur David and is now run by his grandson Gordon Blaney.
David's will boil you a lobster or lobsters, and it doesn't get any fresher or any better.  The lobsters can be hot or cold.  Just give them a 2 hour notice (and remember to pay by cash or check, no credit or debit cards).
My favorite is cold lobster, one of my mother's most loved meals, served with gluten free Hellmann's mayonnaise and a little lemon, or a really good sauce/dip I recently came up with.
Sauce/dip for cold lobster:
Cook frozen chopped spinach, which is wicked healthy (microwave works great), drain and remove as much moister as possible (I use paper towels).
For one serving: 2 Tablespoons of cooked chopped spinach and mix with 2 Tablespoons of Hellmann's mayonnaise, which is gluten free.  A few drops of gluten free Tamari Sauce (possible alternatives to Tamari sauce – soy sauce or worcestershire sauce).  That's it, for some reason this combo is amazing.
And going to David's is fun. You get to go over the Merrimack River on Rt 1 and it's an old time fish market where you can see the fresh fish coming in and being prepared in back, like being filleted kind of prepared. You know it's fresh. And if you live in Newburyport and the surrounding area, or are coming to visit, it's a place not to be missed.
When I first moved here 30 some years ago, there used to be at least 3 independent local fish markets, David's is the last one standing, and it's awesome.