Our very own Kathleen O'Conner Ives, our Katy Ives WINS the Democratic Primary election for Massachusetts State Senator for the First Essex District!!
YEH!!!
Kathleen O'Connor Ives of Newburyport 4,065 votes
Timothy Coco of Haverhill 3,264 votes
Bill Manzi of Methuen 3,277 votes
Source, The Boston Globe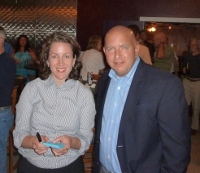 Katy Ives with Mike Costello, Massachusetts 1st Essex District State Representative on election night with the election totals!!