Boy oh boy, are the frogs ever excited, jumping up and rolling all over the place.
George Cushing of Frog Pond at the Bartlet Mall, the political consultant to the Newburyport Blog is giving the Newburyport Current the big "thumbs-up."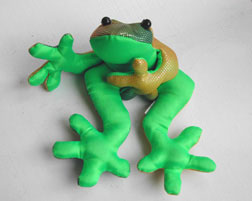 George Cushing giving
the Newburyport Current the "thumbs-up"
Yes, someone has connected the dots about the revamping of 87 High Street and what this could mean for Newburyport, Massachusetts.
To quote from the Newburyport Current, July 20, 2007, Undercurrents by Donna O'Neil:
"We can see it now, a bus rolls through town offering stops at the homes of Hollywood celebs–Newburyport locations, The guide armed with a megaphone that can be heard for miles squawks, 'First stop 87 High Street…'
What other celebrities will find our hidden gem…"
Any number of readers of the Newburyport Blog have asked me, "Newburyport has had famous people who have lived here before or live here now, what's wrong with having Peter Tolan in Newburyport, Massachusetts?"
This is what yours truly does not want. The editor of the Newburyport Blog does not want "revamping" of historic properties in Newburyport, MA (especially on Historic High Street, good grief) by folks who are only going to use the place for brief visits.
The "revamping" of 87 High Street in its present form would raise a few eyebrows anyway. But the fact that the folks who are using such a visible and significant home for a "second residence" is of concern to this blogger.
It could mean that the buyers might NOT become an intricate part of the community (they are probably involved in their home town Montecito CA, already, the city listed on salemdeeds.com as their primary residence).
Very possibly there could be little or no community involvement (aside from paying tons of taxes, which we as residents would applaud). Possibly not having the time to understand the community, its culture and its needs.
Would "second resident" owners of with money of this magnitude become involved in local projects?? Use local banks?? (They didn't for the mortgage -salemdeeds.com)
It feels a little bit like having a "residential" chain store. Looks flashy, but might not return much to the community in terms of human commitment and local moola.
So "thank you" Newburyport Current and Donna O'Neil. And hopefully it could never get to the point where there would be celebrity tour buses and bull horns in Newburyport, MA.
Mary Eaton
Newburyport