George is a wuss.
George Cushing, from Frog Pond at the Bartlet Mall, the political consultant to the Newburyport Political Blog is a wuss.
George Cushing will not go to the Winter Carnival, this Saturday January 27, 2006, sponsored by the Newburyport Park's Commission, which will be held yes, you guessed it, at FROG POND at the Bartlet Mall (on High Street from 10AM to 4:30PM.)
And why George, are you being a wuss?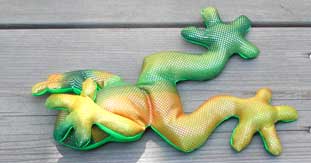 George Cushing being a wuss
Because it's cold?? The whole point is that it is cold, for goodness sakes. Frog Pond is frozen over so that people can skate.
(I've even tried wrapping George Cushing in a scarf, so he won't be cold. But, no, that won't do. He doesn't like any of the scarfs. None of the colors work for him or they're too scratchy??)
You want to stay here because it's nice and toasty warm?? But George, this is your beloved Frog Pond. Right?
All your friends and relatives at Frog Pond are estivating?? Oh, good grief, George, what is "estivating?"
Estivating is what I would call hibernating? All your friends and relatives will be hanging around below at the mud at Frog Pond at the Bartlet Mall, so that you won't have any frogs to frog-on with?
Ok, I give up. You can "estivate" at the Newburyport Political Blog and stay snuggy warm. Happy?
However, just because George Cushing has decided to "estivate" and not go to his beloved Frog Pond at the Bartlet Mall, doesn't mean that everyone else can't have a great time at the Winter Canrnival.
The Winter Carnival
Sponsored by the Newburyport Parks Commission
The Bartlet Mall
High Street (near CVS)
10:30AM to 4:30PM
Lots of fun, skating, hay rides, sledding and snowboarding (if there is snow,) games, races and free hot chocolate (courtesy of the White Hen Pantry) to keep everyone toasty warm.
Mary Eaton
Newburyport