Georgiana Tadpole, George Cushing's new "love interest," spotted a snippet in the Newburyport Daily News, January 22, 2007 on page A3.
(George Cushing is the Political Consultant for the Newburyport Political Blog. If you would like to know more about George Cushing please see "About George" at the right hand side of the blog's "Home" page. A very handsome picture of George, if I do say so myself. And George Cushing is quite pleased about it as well.)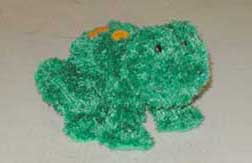 Georgiana Tadpole
George Cushing's "love interest"
The Newburyport Planning Board (a subcommittee, Jim McCarthy, Bonnie Sontag and Dan Bowie) and Newburyport's Planning Director, Nancy Colbert met Friday January 19, 2007 with an independent engineer (Phil Christiansen) to go over the plans for the back of the Wheelwright property subdivision proposed by developer Todd Fremont-Smith.
This is in part because of the concerns voiced by residents of Newburyport, MA. And the independent engineer is "to raise concerns about particular aspects of the development." (See it pays to show up and speak out. How about that.)
" "Christiansen will look into the board's concerns to help it decide whether to approve the development.
"This is a tough site," he (Christiansen) said."
In fact Mr. Christiansen has been asked to make a whole list of concerns, no less, for the Newburyport Planning Board to consider.
I do like that. Good for Georgiana for spotting that one.
(Georgiana is hoping that the engineer can ward off this hideous proposal.)
Georgiana also pointed out another project. (It has been mentioned before on the Newburyport Political Blog, but what the heck, it's definitely worth mentioning again.)
Georgiana is particularly concerned about this project because it would abut the March's Hill park, where in the spring, in particular, she likes to "splash" around with I guess other frogs??
The lot at 39 High Street is being divided. This is the house with the tennis court up near the Newbury line. A new house will be built (all legal and everything) in the new split-off lot.
Poor old High Street. The old Grand Dame is taking quite a beating. Not to mention all that beautiful open space all around her gorgeous, gorgeous self.
Sigh.
Mary Eaton
Newburyport