I wonder to myself if contemporary art, like the stuff being painted today, like today's fine art, has it, or is it going the way of the buggy whip and the typewriter? This is from a contemporary painter (and a good one!!) no less.
In the movie "Other People's Money," Danny DeVito's character, Larry the Liquidator, a successful corporate raider, sort of, very sort of, like Mitt Romney's Bain Capital, compares the company in question to the last buggy whip maker, technology having made buggy whips obsolete. No point in having a buggy whip factory around anymore.
Lots of things have become obsolete. Camera and film stores, Ritz Camera and Infocus in Newburyport, sayonara.
CD stores… adios.  Newspapers, alas, are going goodbye.  Patch-AOL here we come. HuffPost the updated, un-obsolete medium. Books, adios. Kindle, the Nook, IPad, cha-cha-cha.
The United States Post Office, oh dear.
The typewriter – gone with the wind.
Twitter and texting, yup. Complete sentences, TMI.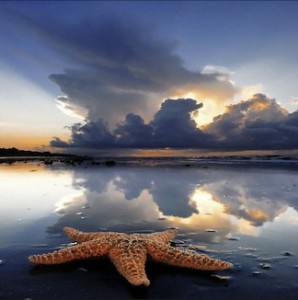 None of this is bad, it just is. Most of it is really fascinating. But what about the quaint idea of painting.  Photoshop, my love hate relationship with Photoshop, in my mind, has changed painting forever.  And for goodness sakes, any photo can now be put on canvas in an hour by places like CVS.
The thing that make my heart go pity-pat when I walk into a gallery, is really great digital photography. It reminds me of that now quaint painting style, Photorealism, one of the last contemporary art movements, that used to make my brain twirl. And there is some amazing digital photography being made.  The photo by 4eyephoto.com that gave permission to use their incredible photograph "Starfish," to my son's theatre company for their poster, a gorgeous example.
The quaint art of painting going the way of the buggy whip – reality??