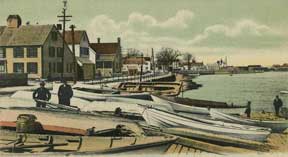 Joppa Landing, Newburyport, MA
From a c. 1906 postcard
Simmons Beach is South of Joppa Landing
I'm really glad to eat my hat on this one.
I was a little skeptical when Larry McCavitt was elected in the special election in the Fall of 2006, for Ward 1 Newburyport City Councilor. But Mr. McCavitt has proven to be a really, really good Newburyport City Councilor.
Yeh.
I like the way Mr. McCavitt votes on issues on the Newburyport City Council floor and I like the way Mr. McCavitt cares about and represents his constituency.
And I really like the fact he is not giving up in his quest to make Simmons Beach an asset for Ward 1 and the city of Newburyport, MA, even though the project was not awarded any money from the Community Preservation Fund. (Newburyport Daily News, June 25, 2007)
Simmons Beach has always been one of my favorite hidden treasures in Newburyport, MA. I smile every time I walk past it.
I can always imagine the kids that have played on that small, delightful sliver of beach, tucked away on the mouth of the Merrimac River, cooling off on a hot, New England summer's day.
Simmons Beach is located on Water Street in Newburyport's South End on the way to Plum Island, next to the old clam shack, along the way to where Water Street meets Union Street.
And Councilor McCavitt is hoping to restore it for the "Joppa" neighborhood by putting an historic marker, plantings and benches. I think it's a very cool idea.
Congrats to Newburyport City Councilor Larry McCavitt.
Mary Eaton
Newburyport