Old South Church, on Federal Street, on the corner of School Street, is an ongoing preservation success story.
Ben Laing graciously allowed the Newburyport Political Blog to use this photograph that he had taken of Old South Church.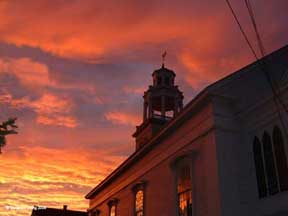 Benjamin Laing © 2006
Image courtesy of Benjamin Laing Photography
Old South Church
An Ongoing Newburyport Preservation Success Story!
Many thanks to Benjamin Laing Photography.
Old South Church, one of the quintessential New England churches in Newburyport, MA was built in 1756. The church bell was cast by Paul Revere. The Great Awakening preacher George Whitefield is buried in the church's crypt.
The steeple of the church, which had guided sailors back to Newburyport, MA was severely damaged by the hurricane of 1938 and in 1949 it was removed and capped with a 105-foot-tall cupola. The rest of the church structure remains in its original state. (The New York Times, May 13, 2006)
Recently, Old South Church discovered, much to its dismay, that the existing steeple was leaning and in need of immediate repair.
The $200,000 plus needed for this very important project came from a combination of private and public funding.
We as a community watched in 2006 as the steeple was lowered, as it was restored and repaired and as it was once again hoisted back to its proper place on Old South Church and Newburyport's historic cityscape.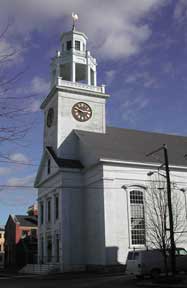 Image courtesy of this blogger, Mary Baker Eaton
Old South Church
An ongoing Newburyport preservation success story!
Old South Church is also one of the few structures in Newburyport, MA that is protected by a preservation restriction, one of the strongest preservation strategies available, setting a great example for the rest of Newburyport, Massachusetts. (Newburyport Reconnaissance Report, Massachusetts Department of Conservation and Recreation, Essex National Heritage Commission, May 2005– which by the way is an incredibly informative and insightful document.)
The restoration of Old South Church is ongoing. Funds are being raised for the much needed restoration and repainting of the outside walls of the building.
For more information on one of Newburyport's historic gems, please visit the website of Old South Church.
Mary Eaton
Newburyport