I remember when the renovation to the Newburyport Bartlet Mall started. To say there was some opposition would be an understatement.
Over the years the original design of the Bartlet Mall had been lost and an arbitrary and unplanned planting plan had gradually taken place. The plantings may have been randomly placed, but the whole thing was "comforting" to many of the populace of Newburyport, MA.
The Master Plan for the Bartlet Mall had been worked on for a very long time, by a whole lot of people, and was finally finished in 1998. Restoration to the Bartlet Mall took place in 2001, 2003 and 2005.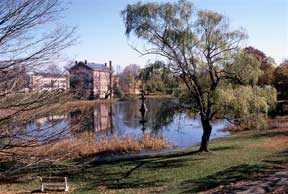 Sally Chandler © 2004
Image courtesy of Historic Gardens of Newburyport
The Newburyport Barlet Mall
Another Amazing Newburyport Preservation Success Story!
The promenade along High Street, lined with Elms, extends from the George Washington statue at the eastern end to the Kelly School playground on the western side. Special Allee Elms were used in an effort to recreate the historical overarching canopy that originally existed long the promenade.
An historic photograph of how the Bartlet Mall originally looked can be found on the first page of the High Street website.
Benches were installed, as well as period lighting, new granite stairways among many, many other things.
All of this was funded with a public-private partnership. Half of the funding came from state grants and over a quarter of the funding came from private local charitable foundations.
In addition, a new volunteer Bartlet Mall Commission has been established to oversee the park. There is now a paid part-time caretaker, as well as a small endowment to provide small permanent annual funds.
No small accomplishment.
And of course, George Cushing, the political consultant to the Newburyport Political Blog, is delighted that I am finally blogging about his beloved Bartlet Mall, in particular because within it is, yes, Frog Pond, which also has a sculptured cast iron fountain aerating the water and which occupies the center of the pond and park.
A very proud frog.
And much to my delight, I have discovered that there are postcards of Newburyport that are in the public domain. And low and behold there is a postcard of Frog Pond at the Newburyport Bartlet Mall.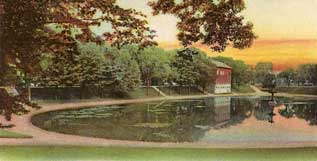 Frog Pond, Bartlet Mall
From a c. 1905 postcard
Image is in the public domain
Many thanks to Geordie Vining of the Newburyport Planning and Development Office who has helped me with the copy of this post (I hope I've gotten most of it right!)
Geordie Vining, in my opinion, is one of the unsung heroes of Newburyport, Massachusetts. All the myriad of things that Geordie Vining has done for Newburyport, MA is quite amazing.
Mary Eaton
Newburyport