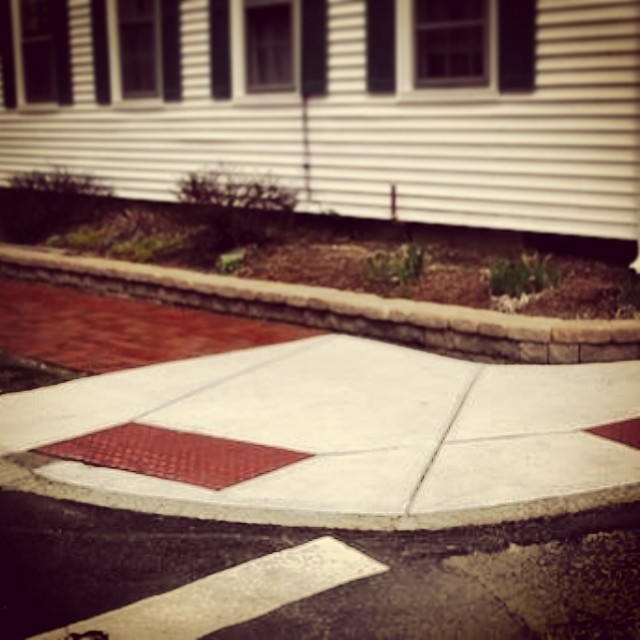 This is what I now know (please see legal disclaimer–I am an amateur blogger, not a legal expert, or highway engineer, or any of the other things one might want to be, to fully comprehend this, and yes, there are still a lot more questions).
In March of 2012 MassDOT mandated the following changes for ADA curb cuts (those are the cuts on sidewalk corners):
1) To have a "Detectable or tactile warning strip, consisting of truncated domes." (i.e. bumpy things)
2) And the change is also in material, the requirement is that it be "slip resistant" which according to the description, eliminates brick:
"7. Walk surfaces shall be designed and constructed as firm, stable and slip resistant surfaces. They shall lie generally in a continuous plane with a minimum of surface warping."
The document can be read here:
What this means in real simple terms, is that legally cement is now in, and brick is out.
I have confirmed this with a very, very nice person at MassDOT, as well as folks who know this stuff in Newburyport City Hall.
And this applies to historic cities and towns all over Massachusetts, including Boston. And from what I can make out (every place that I have checked), with the exception of Beacon Hill, has eventually given in and gone with cement over brick (with much wailing and gnashing of teeth) (again, I am an amateur blogger, not a professional journalist–disclaimer one more time).
On Monday night, at the Newburyport City Council Meeting, the list of streets and sidewalks to be repaved is on the agenda to be Ok'd by the City Council. My hope is that at least one member of the City Council will get up and say, "Wait a minute, could we Ok all the money for roadwork and sidewalks, but could we take a little bit of time to find out some answers to the curb cut–no more brick thing, before we give the big go ahead on that one."
My hope is that if brick is out and cement is in, that maybe we could mitigate the visual impact in some way.  And I'm just throwing ideas out there, there is such a thing as stamped cement, that looks like brick.  I have no idea if that would work, but something along those sort of lines would be better than glaring white strips of cement that would eventually replace the brick corners that now exist.
Here is a list of corners that are slated to be redone this year, where brick would be an issue:
Along High Street:
State Street
Market Street
Federal Street
Lime Street
Parsons Street
Coffins Court
Allen Street
Bromfield Street
Barton Street
And:
State Street and Garden Street (Where the Dalton Club is.)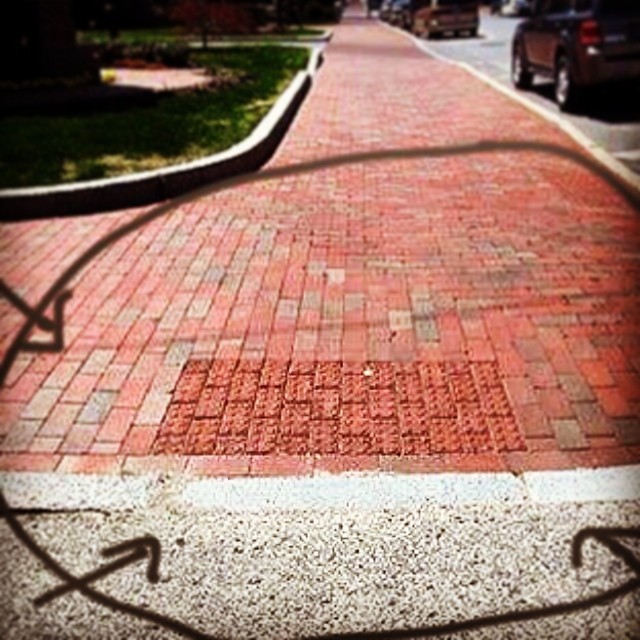 EDITOR'S NOTE: A REPRIEVE!!  Newburyport City Councilor Bob  Cronin has just gotten up at the Newburyport City Council meeting and asked that the curb cuts that had been designated to be turned from brick to cement along High Street be sent to committee for further discussion. As I understand it, the matter was sent to "Public Safety." (P.S. I wasn't sure whether or not the now brick curb cut by the Dalton Club, at the corner of State and Garden was also included in that list.) Thank you so much Newburyport City Council!!