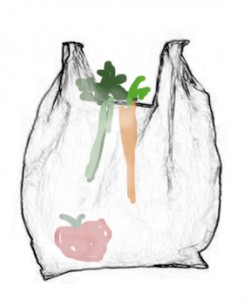 I had two emotions watching last night Newburyport City Council during the public comment period (this is where the public can express their opinion to the City Council before the Council gets down to business).
On the one hand, I was enormously impressed that the young people in our community want to and are learning how, at an early age, to become involved in the "civic" process, and speak so eloquently, and at times passionately about an issue that they believe in. Would that so many other residence in Newburyport become involved in our the process of our city government in the same way.
On the other hand, it makes it very difficult for someone like me, who would like a more measured approach to this particular subject, the issue of banning plastic bags, to speak up and ask for a more moderate approach, without sounding like a complete douche bag (a contemptible and despicable person).
And the other thing, not to repeat myself, but to repeat myself, is that the proposed ordinance to ban plastic bags had seven sponsors.  It is my understanding that when asked to sponsor the ordinance, at least some sponsors were under the impression that they were the second sponsor (which would be the norm), and that it wasn't until they saw the actually ordinance, as it was presented, that they understood that they were, unwittingly, part of the "gang of seven."
I think that this is an unwise template for the democratic process on any level, and in this particular case the municipal level. I am glad that eventually a city councilor asked for the Ban the Plastic Bag Ordinance to go to a "Committee as a Whole" (which means that legally all the councilors can discuss the issue together).  And I hope that folks like me, who have a lighter green approach to life, have an opportunity to be "heard" and taken seriously, and not shunned, because on this matter, we have a different point of view on how to address this particular issue.