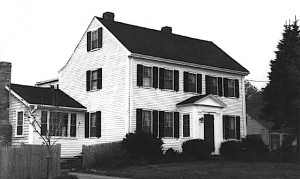 "The property, built in 1810, is assessed at $810,700, according to city records. It is a Georgian-style residence with nine rooms (four bedrooms) and two fireplaces. Size of the house is 2,723 square feet, and the structure has unobstructed views of the inlet across Water Street. Several smaller buildings are also on the property…
Abutters at the commission meeting suggested that an owner could get that much or more if owners tore it down, and offered a clear lot to a buyer who might build a larger structure.
The application requests a permit for "demolition of a single-family home, garage, barn and shed…"
"Newburyport's equivalent of the Tappan House tear-down in Newbury." – a reference to a significant historic home in Newbury that was bought for 1.6 million dollars and demolished to build a pool (information about the former Tappan House can be read here).
The entire story in the Newburyport Daily News can be read here.
The photo of 284 Water Street is courtesy of the City of Newburyport, and the photo and historic write-up of the home can be read here.
Current photos of the property can be seen here.
And a YouTube video of 284 Water Street can be seen here.