There's a new blog in town. The NRA Today (Newburyport Redevelopment Authority).
The very first entry says:
"The next few months promise to be exciting time for the city. With the arrival of spring comes an opportunity to complete the renewal of the city's waterfront, creating a space for all residents and visitors to enjoy.
As the process unfolds, we'll post details here allowing residents to chart our progress. We'll keep an update list of our meetings and hearings with the hope that you'll attend and share your thoughts and hopes for the two central pieces to Newburyport's historic water front.
If you're unable to attend our meetings please examine the minutes to our past meetings. They're compiled on City Hall's web site. You'll find a link to the minutes and our meeting agendas to the right."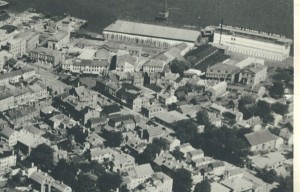 And in the background of the new NRA blog there is a very cool photograph of downtown Newburyport, NRA land c. 1920, courtesy of the Historical Society of Old Newbury (press the image to enlarge).  You can see all the buildings that existed before the demotion that took place in 1968.  If you look real closely you can see where Bossy Gillis' gas station is still standing (see previous post), next to the firehouse.
(If you download the photograph, would you make sure to give the Historical Society of Old Newbury credit. Thank you.)