Newburyport City Councilor Ed Cameron has put up a blog post "Bringing Craziness to the Local Level," where he quotes an article in the New York Times, February 4, 2012, "Activists Fight Green Projects, Seeing U.N. Plot," the whole article can be read here.
"Across the country, activists with ties to the Tea Party are railing against all sorts of local and state efforts to control sprawl and conserve energy. They brand government action for things like expanding public transportation routes and preserving open space as part of a United Nations-led conspiracy to deny property rights and herd citizens toward cities.
They are showing up at planning meetings to denounce bike lanes on public streets and smart meters on home appliances — efforts they equate to a big-government blueprint against individual rights."
Councilor Cameron points out that this has arrived at the local level.  Mr. Cameron points out that this was posted on Bill Hudak's website:
"January 12, 2012 7:00pm – 9:00pm
Join Bill (Hudak) at the Newburyport RTC Meeting at Stripers in Salisbury for an important information meeting regarding Agenda 21.
Local Agenda 21: Coming to Your Neighborhood.
An information session on Agenda 21 by leading expert, Hal Shurtleff (a member of the John Birch Society).
Thursday , Jan. 12, 2012 at 7:30 PM
Stripers Grille Restaurant Function Room
175 Bridge Road, Salisbury. MA 01952
Agenda 21 has infiltrated Newburyport as well as hundreds of other towns. Elected Mayors and town officials are solicited and encouragement (often with taxpayer funded grants) to participate in the many Agenda 21 programs. These programs often come to a city with nice names like The Green Communities Act, Sustainable Development, and ICLEI. They result in mandates like stretch building codes and the mentality that accepts powerful local historic districts (LHD). These organizations appear locally driven, but they represent the coordination of local governments by global entities and the U.N. with social engineering as a true objective."
The whole thing can be read here.
It was also posted on our local RNC site here.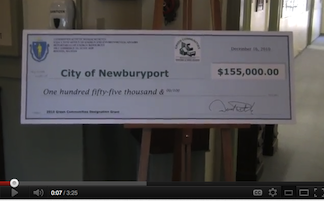 And Hal Shurtleff, a member of the John Birch Society, has also visited Newburyport City Hall, which you can see on YouTube here.
Editor's Note: It appears that "Stop Un Agenda 21! Stop ICLEI!"  has put a link to this post on their Facebook page.  Just to let you know, I agree with Newburyport City Councilor Ed Cameron, in his post "Bringing Craziness to the Local Level."  For me trying to link things like historic preservation, a Local Historic District (LHD), Smart Growth and Green initiatives to a U.N plot with social engineering as its objective, is "crazy."  And to quote a reader of the Newburyport Blog, " 'The John Birch Society Comes to Newburyport City Hall' (yours and Ed's blogs) has to be one of the scariest things I have read in a long time….what is going on out there?"
And another reader of the Newburyport Blog, "I'm sorry, the irony of you being mistaken for a Bircher is somewhat hilarious :)"