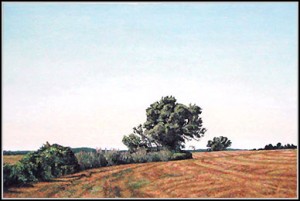 "Many locals know her only as the author of the Newburyport Political Blog. But the political junkie that is Mary Baker Eaton is also an accomplished artist whose work has appeared at prestigious New York City galleries and can be found in private and corporate collections across the country.
And, now, her readers ‑ and everyone else ‑ finally will be able to see her artwork up close, as Kerim Kaya, owner of Kaya Jewelers downtown, presents her paintings through Dec. 31.
The exhibit marks her first major local showing in 10 years, and the quirky Eaton, surrounded Monday morning by her exquisitely detailed paintings of Newburyport scenes, took every opportunity to promote her good friend, Kaya.
"This is a great way for two business people to get together," she said, leaning against one of the jewelry display cases. "I help Kaya. Kaya helps me. Every time I tell someone about the show, I tell them, 'You should come in and buy your significant other or yourself a nice piece of custom-made jewelry for Christmas…""
"…The paintings on display showcase Eaton's love for the natural beauty of the community where she has lived for the past 30 years. A contemporary realist painter, she captures, with lifelike precision, the stillness of the Plum Island marshes, the petals of a bright yellow iris in the South End, apple blossoms clinging to a brick wall at the old gardens at Maudslay State Park and the Common Pasture, its vista unchanged by centuries."
"Putting things in perspective," by Ulrika G. Gerth, © The Newburyport Current, November 6, 2009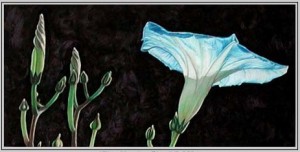 Kerim Kaya, a long time friend and owner of Kaya Jewelers, approached me about a month or so ago and asked if I would like to show my paintings in his gorgeous jewelry store, Kaya Jewelers, 41 State Street, on the corner of Essex Street. My response, especially in this economy that has hurt the arts so much was, "What a great idea!"
The show is up for all of November and December, and the reception is this Saturday, November 7, 2009 from 6 PM-9PM. Please stop by and say "Hello." And do be sure to buy yourself or your significant-other a beautiful piece of jewelry for the holidays.
You can read the rest of the story in the Newburyport Current here.