I've written a lot about why original art work is so important to people's daily lives and our culture at large (disclaimer: I am an artist). Original art enlivens an environment and enriches lives. A more crass reason is that the very wealthy may often buy original art because it is a "status symbol," it indicates that whoever it may be, has "class."
To steal from myself: Having a Ferrari (yes, I know, tough to have such an item in a lousy economic times) may be a status symbol, but it doesn't necessarily mean that the person has "class."
"Having art is unique in imparting to others that you are of value. Art is something that people pass on from generation to generation. Art defines civilizations. Art tells people that you are not only educated, but also that you appreciate history and beauty. It is why when the early American tycoons built their fortunes, they went out and bought art, because it gave them "class." Thank goodness they did, because today we can see Van Goghs, Monets, Renoirs in the great art museums all over the world." (Quoting from myself.)
In Newburyport, MA we have original art on our waterfront at the Newburyport's Sculpture Park at Somerby's Landing near the Black Cow restaurant. Ergo, this makes us "classy."
There is some chit chat, that hopefully would go nowhere, that the little ticket booth (which again I love right where it is) could be put in the sculpture park.
My recollection is that when the sculpture park was being discussed, one of the absolute musts (and quite rightly so) was that it would not block the view of the water. The little ticket booth would ironically block the view to the water (much less destroying the actual sculpture park).. a demonstration.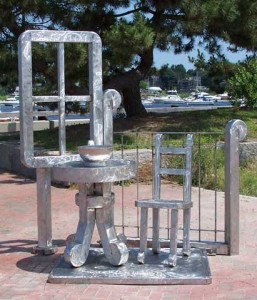 This sculpture by Robert Motes, "An Imagined Place" (which is now a permanent installation at Somerby's Landing Sculpture Park, made possible in 2006 by the generous donation of the Newburyport Art Association) has a window with a "view" that is Newburyport's waterfront– the corner of the sculpture park where the ticket booth would go. So if the ticket booth went there, the window would be looking at the side of the ticket booth.
At the moment the "view" from the window is of the granite corner where all kinds of folks come to sit under the shade of the delightful tree that is pictured, to read, to contemplate, to talk to one another, or to watch their children climb on that delightful tree and listen to their laughter as they enjoy this unique experience. That's pretty much gone if the ticket booth goes in that particular community space.
And that's only one example. And again, it is this blogger's hope that it is merely chit chat that the ticket booth could be moved to this gem like community space, that is part of a jeweled environment in Newburyport, MA.
(The photo of the sculpture by Robert Motes, "An Imagined Place" is copyrighted by Artfluence, and is used with permission.)