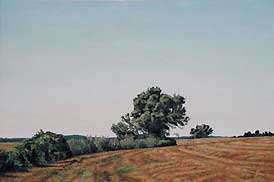 Marsh 2
Oil on Canvas
20″ x 30″
Mary Baker © 2006
Landscapes of the Marsh, Newburyport, MA
I've been painting the marshes of Newburyport, Massachusetts, a small New England seacoast city since 1983.
I always seem to go back to them. They are compelling.
Aside from the sense of wide open space, the vastness of Newburyport landscape, I keep wondering why I go back to painting the Newburyport marshes again and again.
Last year I found out something very interesting. I don't know whether it is germane or not, but I am intrigued.
My ancestors farmed a large piece of land on Shelter Island. The land became a State Park.
Shelter Island is at the very end of Long Island, New York, in between the two forks at the end of Long Island.
I will reluctantly admit that I have never walked the land that my ancestors farmed so faithfully.
However, about a year ago I looked up pictures on the Internet of Shelter Island. And what I discovered was that the landscape is almost exactly like the landscape of Newburyport, Massachusetts.
So what I am wondering is if the landscape of Newburyport, MA and Shelter Island is somehow in the "hard drive" of my artistic unconscious.
Mary Baker