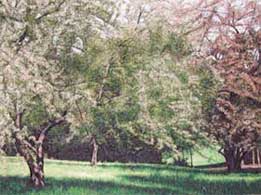 Apple Trees
Oil on Canvas
36″ x 48″
Mary Baker © 2006
I've gone back to painting landscapes. I painted landscapes for 14 years and in 2002 (I think) I painted what I thought was my last landscape. I simply didn't think I had another landscape in me.
But last year I started 3 large (36" x 48") landscapes of Maudslay State Park in the Spring. And I finished the first one a few weeks ago of apple trees in bloom. At the moment it's on the home page of my website, Mary Baker Art. It is also at the top of this post.
One of the things people keep saying about my work is that it looks so photographic. This drives me nuts, because when you get close to the work, it's extremely painterly. So what I did on the Homepage of Mary Baker Art was to include two up-close details so that people could see exactly how painterly the landscape is. And also, so that people can see that up close, the painting is very abstract.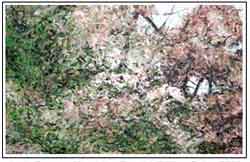 Apple Trees (Detail)
Oil on Canvas
36″ x 48″
Mary Baker © 2006
One of the things that I've found is that when people come into my studio, it's the landscapes that they resonate with. A lot of the time they don't even notice the flower paintings or the paintings of the neighborhood.
So what I decided to do was to start more landscapes. At the moment I have started 3 landscapes of the marsh (the marshes being up here in Newburyport, Massachusetts.) In the past, people have loved paintings of the marsh.
It's taken me a long time to be able to paint paintings of the marsh. Psychologically I needed to paint what was right in front of me. And that was flowers and up close paintings of my neighborhood.
Psychologically, landscapes of the marsh feel as if I have some understanding of "the big picture." They feel expansive. And all the landscape paintings have paths in them, which I find very interesting. I didn't plan it that way.
And I'm surprised, because I'm excited about painting the landscapes of the marsh. I thought I would dread it. But it seems that on canvas I'm ready to wander down an expansive path to the unknown.