I came across this wonderful picture of Brown Square and Central Church on the online Newburyport Archives.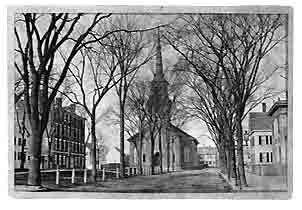 Central Church
Courtesy of the Newburyport Archival Center
The Newburyport Public Library
What is now the Garrison Inn, can be seen on the left next to the church. It looks as if there could be a glimpse of City Hall to the right (I'm not sure). And then there is the beautiful archway of trees with what is now Central Congregational Church at the end. In the Newburyport Archives it is listed as "Central Church (North)."
I thought that this image, along with all the rest of the remarkable historic photographs and prints that are now available to the public, in the public domain, through the Library of Congress and the Newburyport Archival Center, that have recently been up on the Newburyport Blog, would be a good way to wish the readers of the Newburyport Blog (who I am most grateful to), a very Happy Holiday.