The lone horse and buggy in the photo of the Chain Bridge (see earlier entry) sent me searching in the Archives of the Newburyport Public Library.
And I found this wonderful (and warm) photograph of E. Ross Carriage Work.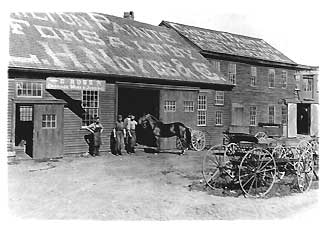 E. Ross Carriage Work
Courtesy of the Newburyport Archival Center
Newburyport Public Library
It also goes back to my thoughts about the different mix of people and places that added color, interest and vibrancy to Newburyport, MA. I am thinking, once again, of New England Development, Mr. Karp and "High-End Homogenization."
The Newburyport Daily News has an excellent story today, December 17, 2007, by Stephen Tait, about the possible future of Newburyport, MA, judging by how Nantucket, another one of Mr. Karp's outposts, has evolved.
"Whitey Wilauer, the chairman of the Board of Selectmen, said he often hears complaints from retailers, mostly regarding the ever-rising rents.
"He (Karp) is very sophisticated in his approach," he said. "He has a staff down here, and they are looking at each property and trying to determine if they are profitable or not profitable. He is trying to bring profitable outfits into the town. That's what happens when you have investors to please; the actual cultural aspects aren't paid much attention to…" 

"They just have that attitude that they don't care: either pay it or they'll find somebody else who can," Brownell said…" (Newburyport Daily News, December 17, 2007, by Stephen Tait)
And here is a close up of the group of men standing in front of Mr. Ross' establishment.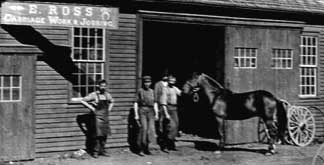 Detail, E. Ross Carriage Work
Newburyport Archival Center
Courtesy of the Newburyport Public Library
One of the things I also love about this photograph is the advertising on the roofs. Obviously an era long before modern billboards.
What an ingenious way to market a product. I've seen "advertisements" painted on existing brick walls, and on brick walls in old photographs of Newburyport, MA. But this is the first time I've ever noticed advertising on roofs.

Detail, Roofs
E. Ross Carriage Work
Courtesy of the Newburyport Archival Center
Newburyport Public Library
(And the fact the roofs are snow and ice free, today, December 17, 2007, is also quite enjoyable.)
Mary Eaton
Newburyport