Finding the photographs of the clam shacks yesterday had me rooting around in the archives of the Library of Congress too, trying to find photographs that have not been on the Newburyport Blog.
I found this image of the Chain Bridge that I do not remember seeing before.
Since yesterday was so stressful for so many folks, with all the snow and the unbelievably bad commute for some, I thought I would put up this calm, serene and warm photograph of the Merrimac River and the Chain Bridge on the Newburyport Blog.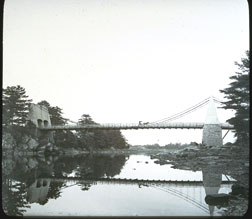 Chain Bridge, bridge spanning water, Newburyport, MA
Courtesy of the Library of Congress
Prints and Photographs Division
Harvard University Graduate School of Design
Frances Loeb Library, Gund Hall, Cambridge MA
Reproduction Number: 119600
And I also love this detail of the horse and buggy crossing the Chain Bridge from the same photograph.

Detail, Chain Bridge Newburyport, MA
Courtesy of the Library of Congress
Prints and Photographs Division
Frances Loeb Library
Harvard University Graduate School of Design
Mary Eaton
Newburyport