My practical and down to earth friend, who loves historic gardens, wrote me an email concerning the previous post.
As a professional Landscape Designer she did take a class in historic preservation and to quote my friend, "There are tons of good questions, and not nearly as many good answers," (about how to integrate an historic garden into the lives of people in the 21st Century.)
Oh, well. But not entirely surprising.
Because these photographs are so delightful, I thought I would put them on the Newburyport Blog for readers to enjoy on this Newburyport New England summer day.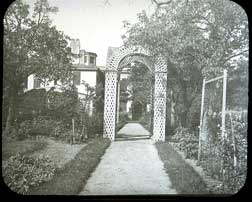 Brockway Estate, Garden
83-85 High Street, Newburyport, MA
Courtesy of the Library of Congress
The Frances Loeb Library
Graduate School of Design,
Harvard University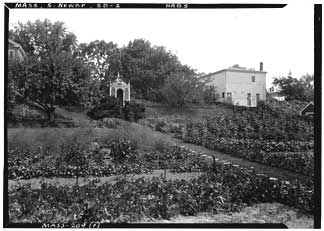 Abraham Wheelwright House & Garden,
77 High Street, Newburyport, Essex County, MA
Courtesy of the Library of Congress,
Prints and Photograph Division,
Washington, D.C. 20540 USA
Historic American Buildings Survey
Frank O. Branzetti, Photographer
Aug. 14, 1940
View of Garden, Looking East
Mary Eaton
Newburyport