I went and talked to a delightful friend of mine who loves and appreciates historic gardens and who is very down to earth, to get a reality check.
The subject was/is how to live with historic preservation, only this time outside.
As I said in an earlier post, I went on a hunt for historic garden photos and historic garden designs in Newburyport, MA.
And one of the things that struck me, was that it would be A) very expensive to maintain these gardens in the year 2007 and B) like so many other things, life has changed, and the gardens might not fit in with the life style of your average family in the 21 st Century.
As my friend (again, who loves historic gardens) pointed out that kitchens are different now, bathrooms are different now, and houses have open concepts and people just plain live differently.
So I would think that one of the issues that a family might think about, if they were thoughtful, and bought an historic home, that had an historic garden, would be how does one integrate an historic landscape with lets say a family with young children and a dog?
I am quite sure that there are PhD programs (there have got to be) that address this issue, so I feel a little foolish contemplating this question on the Newburyport Blog.
But, here are two photos. One is an historic garden and one is an historic garden plan. And I ask myself how a family of four with let's say 2 dogs, would think about being stewards of such a property and also play and enjoy their backyard?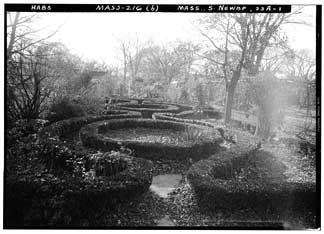 Joseph Moulton House & Garden
Courtesy of the Library of Congress,
Prints and Photograph Division, Washington, D.C.
Historic American Buildings Survey
Frank O. Branzetti, Photographer Oct. 29, 1940
Please press here for larger photo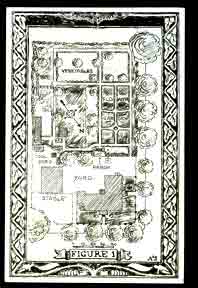 Newburyport Gardens, Plan, Newburyport, MA
Courtesy of the Frances Loeb Library
Graduate School of Design, Harvard University.
Library of Congress
Prints and Photograph Division
Washington, D.C.
Please press here for larger photo
Mary Eaton
Newburyport