A little clarification here on the proposed plundering of the back of the Wheelwright property by Wills Lane LLC. This proposal will be in front of the Newburyport Planning Board December 6, 2006.
This is a traced/drawing from the Newburyport GIS map showing part of the back of High Street, from State Street to Lime Street or what is know as the "Ridge" the land behind the stately High Street mansions.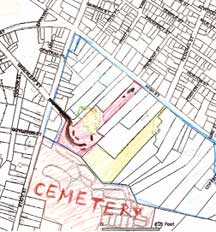 The area in red was the original Wheelwright Property, the back of which Wills Lane LLC is proposing to develop a subdivision.
This is a photograph taken of the beautiful entrance to the Oak Hill Cemetery off State Street. The "lane" of the proposed subdivision by Willis Lane LLC would basically parallel this gorgeous, historic roadway.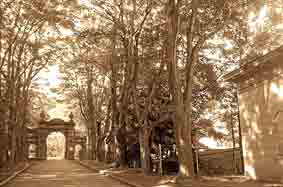 Edward Gerrish Mair © 2006
And this is a close up of the subdivision Wills Lane LLC would be proposing in front of the Newburyport Planning Board. This is the "sensitive" community version, rather than the "by right" version (see pictures in earlier post.)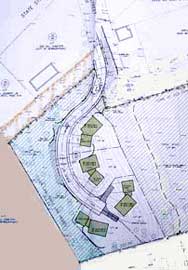 What I did was take a picture of the public document at the Newburyport Planning Office. The "peach" colored area is the Oak Hill Cemetery. The beautiful entrance to the cemetery is also sort of in peach color. This was done by moi for clarification sake… I hope I can't be sued for this. If I could, would somebody please let me know ASAP. (Actually if the developer, who lives in town, is proud of this plan, the nifty peach color could be an asset, setting off the planned subdivision in all its "glory.")
If a picture is worth a 1000 words, then this is a pretty sorry state of affairs.
Again, for activists out there in local Web Land, the City cannot do all that much to stop this "ridiculous" plan (as Ester Macomber calls it in the Newburyport Current, October 27, 2006.) It is the owner, who lives in Newburyport, MA, who does not appear to be changing his mind one little bit.
Mary Eaton
Newburyport
(Editor's Note: For an even more detailed map please see The Newburyport Preservation Trust)