I find myself often late to many planets.  Late to the David Sedaris planet (my discovery of David Sedaris, or the "scull guy," Christmas 2008 here), who has now become probably my most favorite writer, and "Me Talk Pretty One Day," probably my most favorite book.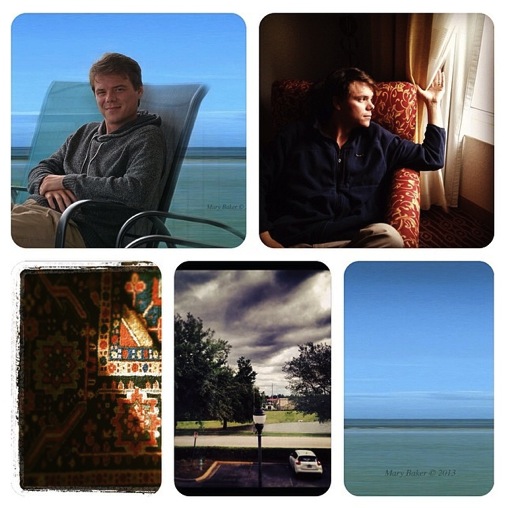 (An Instagram portrait of my son, Hal, who always, graciously, seems to acquiesce to his mother's instinct to create yet another portrait of him.)
In my rebellion about being chained to a cell phone at all times, I was one of the last people on earth to get a "smart phone," and probably the very, very last person on earth to text (I still do not like texting. I find it to be yet another handy way to avoid human interaction.)
Although, as my son pointed out, I did "tweet," long before others (including my son) "twittered," and blogged, low 7+ years now, when people, in general, thought blogging to be a weird and unnatural thing.  So I have actually been on some planets on the early, rather than almost late/last side of the equation.
And Instagram, who knew, not moi. (You have to have a smart phone, or a tablet, or something to Instagram, so, of course I was wildly late-ish to the Instagram planet.)  And along with reading David Sedaris, Instagram, at least for the moment, has become one of my favorite occupations (this is a vast understatement).
And I am so new to the Instagram planet, that it is instantaneously instant, so it may fade after a time. But for this time, I am most definitely "hooked."
My at the moment, obsessive Instagraming can be found here.
(I am hoping that this is a nice change of pace from the subject of plastic bags — see a lot of earlier posts.)