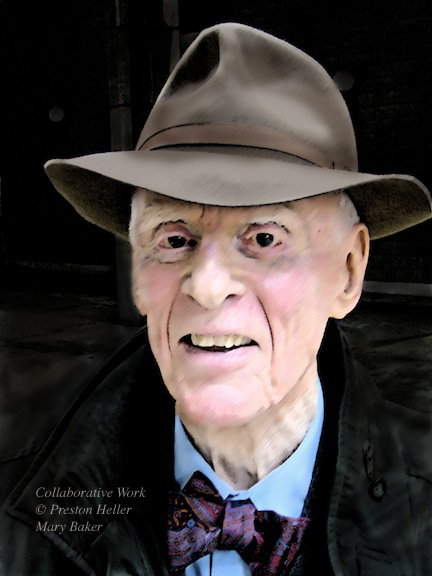 My father, an elegant and dapper New York gentleman, who wore fedoras and bow ties, came up to see my son in a play in Boston during an early, chilly New England spring. He looked at me and said, "You fit right in."
I, in fact, was not dressed elegantly in any way. I was dressed for New England, which meant not in "stylish" shoes, but shoes that could walk through melting winter slush, and a warm, water-proof coat, not a fashionable, "flimsy" "cloth" sheathing.
And I remembered, why, growing up, I was always so cold in New York winters, when the wind howls through the tall caverns of New York City buildings, while New Yorkers waited in the elements for buses, shivered in subway stations, or hoped to hail a possibly elusive taxi cab. New Yorkers had (at least when I was growing up) no idea how to dress for winter. New Englanders do.
"Back in the day," my family used to say people in Boston had no sense of style, that they were "tweedy" and "frumpy" (Ok, they had a few New York preconceptions).  Actually New Englanders are, when it comes to winter outerwear, very sensible, and not "foolish." We like to be as warm and dry as possible — an example my father followed in his later years (it took him until he was in his late 70's), when he shocked his "homies" and went for the comfy and warm L.L. Bean look, from L.L. Bean, and chuckled at his "peeps" (I did it!! see earlier entry!!) who looked dubiously at his new attire.

When I bundle up for Newburyport New England winters, I often think of my father. I'm not sure what he would think of the warm, day-glow orange hunting hat that my neighbor so graciously gave me, so that I wouldn't be run over when I walk in the middle of the street on Newburyport snowy, difficult to plow the road days (see previous post). But the other day I saw someone walking on snowy High Street with a day-glow, orange, toasty hunting hat, just like mine, and I thought, "Damn, they look New England stylish."
**My father in his 80's, stylish in his fedora, bow tie and L.L. Bean coat — A collaborative work © Preston Heller and Mary Baker.