I walk into my house and I sniff – mold??  I may now be a spider slayer (see earlier entry), but I can be as neurotic (this is a New York City term) as Woodie Allen.
I go down into the basement. Sniff, sniff. Basement smell, but not the same smell.
The odd, apparently or hopefully, not mold smell comes and goes. Who knows.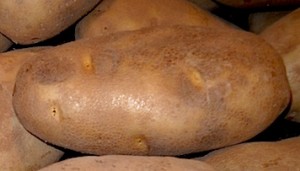 (I'm going circular now….) Over the last 3 years and some months, since Black Friday, the Celiac, you must now go on a gluten-free diet from hell, friday, I have become a big fan of baked potatoes.  They are absolutely gluten free, plus they are wicked good for you, who knew.  Chock full of all sorts of amazing nutrients. 48% Vitamin C, 18% Iron, really. And let's not forget both Potassium and Vitamin B6 at an amazing 46%, if you don't believe me, read all about it here.
The amazing baked potato, good for breakfast, lunch and dinner in all sorts of concoctions, instead of awful gluten free bread, or full of gluten bread.
So for 3 years and how many months, every night, I bake at least 2 potatoes, and use them in all sorts of ways the next day.
(For you gluten-free folks out there in web-land, I am now visiting the Newburyport Blog for some reason, land – a potato baked at 350 degrees for an hour and a half (i.e. fairly slowly) and then cooled, can be used for all sorts of things, including potato salad, much better, and easier, than boiling.  An odd tip I've learned, who knew?)
Before baking a potato, it is necessary to pierce them or it with a fork or a sharp knife, lest they or it explode.  And over the 3 years plus how many months, I've watched the pierced potato parts leak and dribble onto my oven floor. Not being a super duper oven cleaner, I've never much cared.
But an "ah ha," eureka moment.  The other day, an apparently un-pierced baking potato exploded, and that weird smell (see, I told you I'd get around to it), well, it was like that weird smell, the not the basement maybe, oh dear, mold smell, but  "the" odd smell, on steroids.
So, I am relieved.  Odd, but probably not terribly dangerous smell explained. A wet paper towel, or a lot of wet paper towels, scrubbed against the bottom of the oven, seems to alleviate the long sniff quandary. And I will now need to find something else innocuous, but perplexing enough to obsess about, to take the place of the great exploding baked potato whiff enigma.