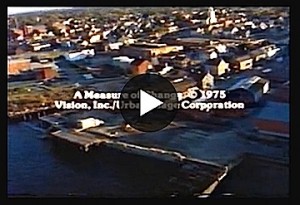 This video is worth posting again, and if you haven't seen it take a look, or if you have seen it, it's pretty amazing and might be worth a gander again.
It's about what Newburyport used to look like not so long ago in the late 1960's and early 1970's. It's not the gorgeous downtown we all know and love now.  And downtown Newburyport no longer has any protection (it ended in 2005).  The Newburyport City Council has a fantastic opportunity now to put protection of downtown Newburyport back in place.  It would be a noble and intelligent thing to do.
The film "A Measure of Change" was made in 1975 by Lawrence Rosenblum on what the city looked like before Urban Renewal.  A link to the video which is now online can be found here.