The Commonwealth of Massachusetts has a very cool tool to find out where to vote in Massachusetts and in Newburyport!! this Tuesday, November 6, 2012.
You just enter your street number and its name, and your city or town, or your zip code, and voila, it tells you exactly where to go!! (it even tells you what ward you are in, and how to get in touch with the City Clerk).
Once you put in your information, it also has a link to a copy of the state's sample ballot for your location, so that you can see who to vote for, as well as what the 3 ballot questions are, and what the 2 non-binding ballot questions are. (The link to the sample ballot is at the top after your address, where it says, "My State Ballot", under "Who is on my Ballot.")
Voting hours are 7am to 8pm.
Be sure to vote.
To use this fun "where to vote" tool, please press here.
For a link to a copy of Newburyport's sample ballot, please press here.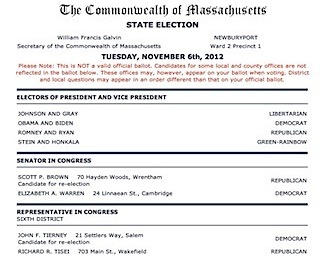 When you press the link, the state's sample ballot will look like this.