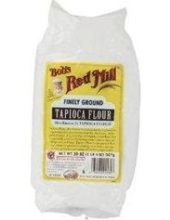 I find gluten free bread to be gross, even Udi's, and there is no nutritional value. I've given up on GF bread bread, in fact I gave it up way long ago.  And I have been searching for some sort of solution.  A friend of mine gave me Brazilian Cheese Balls, which are gluten free, about an inch and a half round and yummy, and made with tapioca flour.  So I decided to go on a hunt for Brazilian Cheese Ball recipes.  But what I really wanted was something that tasted like the Brazilian Cheese Balls but was flat.
So after mucho experimentation I came up with this recipe.  I have never, ever baked until I got on this gluten free diet thing, and I like easy recipes, and this is easy, otherwise I wouldn't do it.
The "bread" smells like buttery bread, tastes a little bit like a flat chewy croissant, and I eat it for a snack.
And since people come to the Newburyport looking for Gluten Free stuff, and the Almond Meal cookie recipe (see earlier post) has been a hit from all over the US, I thought I would share this recipe as well. (Anything to make folks who are on a gluten free diet lives more enjoyable. This is my gluten free comfort food.  And finding GF comfort food ain't easy.)
________________________________________________________
Brazilian Cheese Flat Bread
2 cups shredded mozzarella cheese (in a package, make sure it is Gluten Free, check what is used to make sure it doesn't gum up, hopefully something like potato starch)
2 eggs
1 cup milk (can be lactose free)
1 1/2 t salt
1 t GF baking powder
1/2 cup canola oil
3 cups tapioca flour (I use Bob's Red Mill, see photo above)
Preheat oven to 350 degrees.
Mix cheese, salt, baking powder, eggs, milk and oil (can can use a fork).  Add tapioca flour, mix with spatula. (If the consistency is too runny, add a little more tapioca flour a tablespoon at a time, flour consistency sometimes differs with each package.)
Cover a cookie sheet (roughly 15″ x 10″) with parchment paper, cut so that there is about half an inch of parchment paper sticking up all the way around.
Take half mixture and spread as evenly as possible, making a rectangle, leaving about an half an inch to an inch of space between the mixture and the edge of the paper.
Cook for 15 to 25 minutes (temperatures of ovens vary).  Watch closely, and remove when light brown all over, including the middle.  The edges will brown first.
Remove the cooked bread still on the parchment paper and put on the counter to cool.  The bread will puff up during cooking, and then flatten as it cools.  Cut into 12 (more or less) pieces and freeze.  I put pieces in a plastic tub and separate them with wax paper.
Heat up in microwave when hungry.  I like it a little warm and chewy, not completely cooled (my own personal taste).
It can also be lactose free.  Mozzarella chess does not have sugar, and is lactose free.  And I use a fortified lactose free milk, lots of vitamins.  (You can also try it with other kinds of cheese.)
I've only make the flat bread  with reduced fat mozzarella and 1% milk, so I don't know what it would taste like if made otherwise.
Smells like buttery bread.  Tastes like a chewy croissant. Makes a great snack.  Don't need to put anything on it.
It could be tweaked to make a good pizza dough (but haven't gotten that far yet).