George looks at me and says, "Dahling…"
"Dahling" George? "Dahling?" First it was "Oy Vey," and now it's "Dahling."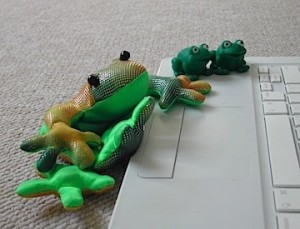 The "Oy Veh" thing was suspect enough for me and the readers of the Newburyport Blog that your wonderful Newburyport "pedigree,"  George Cushing of Frog Pond at the Bartlett Mall, might be suspect.  But what in the world has the political consultant to the Newburyport Blog been watching? (And, really, do buttoned up old Yankees [not many buttoned up old Yankees around these days, at least they seem to be dwindling here in Newburyport], say "Dahling," I don't think so.)
George and the twins pow-wow around my computer.  They point out to me that another site  is getting a whole lot of credit for stuff that I write on my blog, even images, good grief.  Search Engine Optimization (SEO) for the Newburyport Blog going out the window.
George rolls his eyes at me and continues, "Dahling, how could you have known? Stop beating yourself up."
(George has obviously been watching some sort of combination of Dr. Phil and Bubbles Devere [aka Matt lucas], good grief!)
George, I'm not "beating myself up," so get a grip. These folks could not have been nicer.  They wanted to promote the Newburyport Blog, and put at least, count'm, 5 links back to the blog on every post they syndicated!  Who could ask for more than that!!
But what do do.  With some sadness, I get in touch with these kind folks, and ask them if they would take all the content down that is from the Newburyport Blog. Sigh. And maybe Google will sort it all out in a week or so, and Google would realize that, moi and the Newburyport Blog writes this stuff.

"You could have done your homework, you know." Say the Twins (aspiring political consultants to the Newburyport Blog).
"Say what?"  I say, and am in a little bit of a huff. Twerpy little frogs!!
But they are right. And this is from Google itself (which I had never seen before).
"Syndicate carefully: If you syndicate your content on other sites, Google will always show the version we think is most appropriate for users in each given search, which may or may not be the version you'd prefer. However, it is helpful to ensure that each site on which your content is syndicated includes a link back to your original article. You can also ask those who use your syndicated material to use the noindex meta tag to prevent search engines from indexing their version of the content."
Who knew. I would feel weird asking someone not to index (i.e. having their stuff show up on Google etc.) stuff on their sight, even if it was my stuff. And from a technical point of view, it could be mighty hard, especially if folks would be using a blogging software like WordPress.
So Google puts one in one weird dilemma.