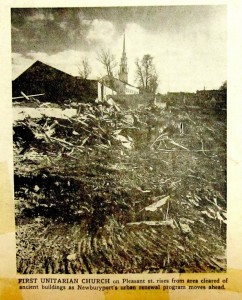 My fellow blogger Tom Salemi over at Newburyport Posts has taken a major civic plunge.  No tip-toeing into the Newburyport civic world for Tom.  Nope, a full dive, right in.  Last week Tom Salemi's appointment to the NRA (Newburyport Redevelopment Authority, not the National Riffle Association) passed the Newburyport City Council unanimously.
Everyone here at the Newburyport Blog, me and the frogs, are mighty proud.
It would be hard to pick a more controversial board or committee in our fair city of Newburyport than the NRA. (This is a vast understatement.)
The lots that the NRA are in charge of, have literally been fought over for the last 40+ years.  And if P.Preservationist is right, "It is known that the Committee for the Open Waterfront are cracking open their old file cabinets and rallying to restart their efforts.  This sounds like a huge brouhaha coming!"  And that would surprise me not in the least.
I've always thought that the issue of the waterfront, the NRA's two dirt lots down by the waterfront, would never be resolved in my life time (to see long ago post, press here).  Maybe this is the golden moment, who knows, we will see.  But I am not holding my breath.
I've always thought that those two dirt lots are cursed (the history is so complex, who could begin to explain). And in my wanderings to find stuff about the proposed Newburyport Local Historic District (LHD), which includes downtown Newburyport, I came across the picture in this post (I think it was taken in 1968, but I'm not 100% positive), in the Newburyport Public Library Archives.  The caption reads, "First Unitarian Church on Pleasant St. rises from area cleared of ancient buildings as Newburyport's urban renewal program moves ahead."  And the photograph looks as if it is taken way, way back from the Unitarian Church, on those two dirt lots. (If you press the image, it will enlarge.)
The photograph is haunting.  It is a reminder to me that when stuff is gone, it is gone for good. All those "ancient" houses gone for good.  And I always wondered if that area, not to sound silly, is haunted.  It has been so difficult to get anything accomplished over the last 40+ years, so many people have tried, that I really and truly wonder.
(If you download the image would you please give The Archival Center at The Newburyport Public Library and The Newburyport Blog credit.  Thank you.)