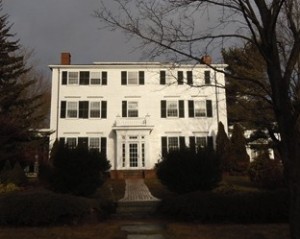 What fabulous news.  The demolition permit for 1 Little's Lane in Newbury (see the Newburyport Blog's earlier post), the stately circa 1800 large Federal style house, for the moment, has been put on hold, according to the story in today's Newburyport Daily News.
And it is my experience that these things do not happen, and hopefully it will not happen, without an enormous amount of effort by all sorts of folks.
Would the demolition permit be withdrawn without a front page story by the Newburyport Daily News that alerted the community to the demolition permit taken out by the owners, and the story in Sunday's Boston Globe about the possible demolition of the Tappan House, 1 Little's Lane, with, in both cases, a photo of the historic dwelling.
One wonders.
And according to today's story in the Newburyport Daily News, "The Patricans now have a variety of options at their fingertips, provided by a group of local designers and architects who volunteered their time to draw up ways to save the house…
The group's plans fall into two categories: leaving the house where it is and making physical changes to screen it from the Patricans' backyard, and moving the house to another location on the property.
The plan to leave the home in its present location calls for tree landscaping between the Patricans' pool area and the Tappan House. It also calls for attaching "Jamaica shutters" to the Tappan House windows that face the Patrican property. The shutters have a historical appearance and could have legal restrictions placed upon them that would prohibit their removal unless an agreement is reached. It includes three potential scenarios for moving lot lines in order to give the Patricans more land around their main house and creating a lot for the Tappan House that could be resold.
The plans to move the house would push it farther down Little's Lane, away from the Patricans' house. It would be located near the edge of the field that is protected by the covenant. The house could then be sold to a new owner, along with the field."
And I can assure you that an enormous amount of work, by incredibly talented and professional people, went into these plans for free, to provide alternatives for the owners of 1 Little's Lane, to save the home, built by Revolutionary War privateer Offin Boardman for his son-in-law Amos Tappan, from demolition.
(One of the conceptual plans drawn up for the owners can be seen here.)
Hopefully there will be a win-win situation for this stately and historic property.