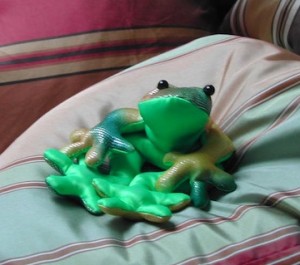 George is grinning, huge wide smile, and those of you who have been readers of the Newburyport Blog for any length of time know that George is usually a glum sort of fellow, even with his passionate romance to Georgiana Tadpole (if you really would like to know about any of this frog stuff please press here).
Instead of telling the readers of the Newburyport Blog what is making George smile so hugely right off the bat (although he's not smiling in the picture, I couldn't get one of him smiling), I'm going to start at the beginning.
Way, way back ("in the day," I'm not sure if it's that far back) in 1990 I painted a whole bunch of paintings for a major New York show, oil on panel, and the panels warped (I used the wrong kind of panel – never did it again).  Panic city, you betcha.  I went to what was then Wendover Woodworks on Liberty Street in Newburyport, and one of the owners, Andy Willemsem saved my sorry soul by making some absolutely gorgeous frames that solved the warping problem and saved yours truly.  It was then I met Andy's partner in this wonder furniture creating place, Henry Fox.
About 15 years ago, wandering around my Newburyport neighborhood, I ran into Henry Fox, who told me the harrowing tale of his son, born 3 months early with a host of medical problems who had been saved by the Neonatal Intensive Care Unit at MassGeneral in Boston, and had just been moved to one of the more local hospitals.  I later shared this story with other families who had critically ill new borns, including my most wonderful neighbors, who found themselves and their newborn son also at MassGeneral. (The young man is now happily running around our neighborhood.)
Andy Willemsen moved on and Henry Fox named his wonderful furniture business after his two sons, "Fox Brothers." (Still there on Liberty Street in Newburyport, still amazing.)
Fast forward to 2012, yesterday, a "new" or "new" to me, George and I being 5 years late to the story (not quite as bad as my late arrival to the David Sedaris planet, see earlier post, but not so good)  local Newburyport blog called "Happy Chickens Lay Healthy Eggs," by a fifteen year old young man called Orren Fox.
I'm thinking Fox?? Fox?? Henry Fox?? The timing's right.
And sure enough this blog is written by Henry's son Orren, the one in intensive care 15 years ago.  How cool is that, but it gets so much better.
Scrolling down the blog's sidebar the young man has been interviewed/written up by the Huffington Post, NPR, Yankee Magazine, the Boston Globe to name a few, and has been to the White House, March 7, 2012,  for "Know Your Farmer Event."
I'm beginning to join George in grinning from ear to ear about this young chicken farmer and organic food activist.
"Margaret Mead would have loved Orren.  A soulful and gifted young man who has done more to help make a positive impact by 15 than most folks do in a lifetime." From Do Lectures.
And Orren has added bees, in "Bee Happy" – check it out here.
AND Orren has serendipitly gone into business with his brother Will (with a little help from Dad) making "FoxBoys" longboards, skateboards in the most glorious shape, a little like a boat, read and see all about them here.
And Orren Fox is so media savvy as to make grown "social media" folks weep – along with the Happy Chickens blog there are the Facebook pages that one actually enjoys looking at and reading, and twitter accounts.  But it may be in the blood because his Mom, who gave birth to him all those many 15 years ago, is Libby Delana, the founding partner of Newburyport's Mechanica, the next generation branding firm.
So if you are discouraged by the news or local or federal politics, life in general, go investigate Orren Fox, a young man who transcends the sustainable movement.  It doesn't matter if you are dark "green," light "green," in-between or orange; right wing, left wing, moderate or independent.  When you read about this fantastic story, you like George, will be grinning from ear to ear and doing a dance in the end zone of your choice.