Digital Images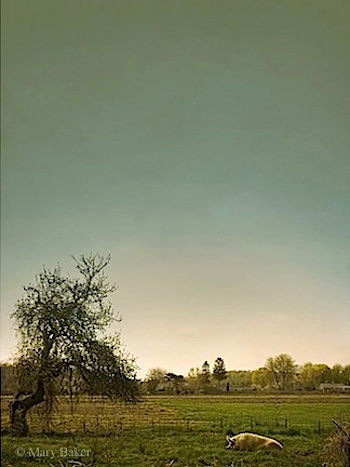 Pig and Apple Tree © Mary Baker, 9" x 12" Digital Image (DRAFT)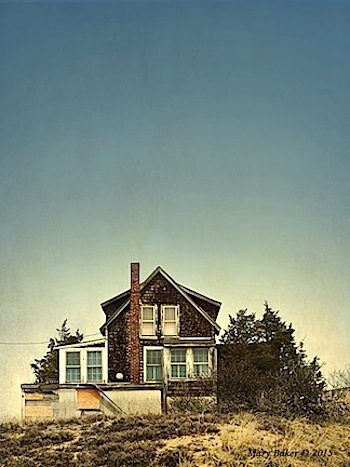 Plum Island House © Mary Baker, 9" x 12" Digital Image (DRAFT)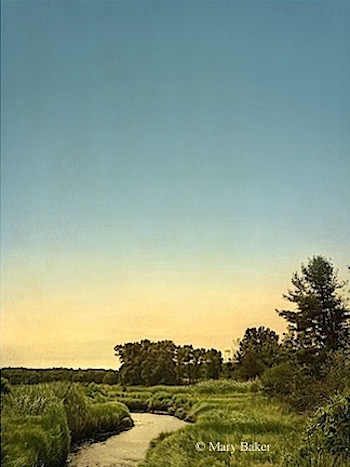 Boston Road © Mary Baker, 9" x 12" Digital Image (DRAFT)
On December 17, 2012 Mary Baker decided to take a year and experiment with digital art. The process turned out to be a lot more complicated, and a lot more interesting than she ever imagined. Since December 2012, Mary has been exploring this wonderful new medium, which at times to her seems completely magical.
Mary is now in the process of creating a cohesive body of work. First Mary creates/paints the images on her computer, starting with a photograph that she has taken. Then the digital images are printed on beautiful, acid free, thick watercolor paper with pigment prints. From Mary's point of view, as a painter, the printed image seems a little dull and muddy, so the third step is that Mary draws on them with Prismacolor (which is a waxed based colored pencil that she has used as a professional artist for decades). The Prismacolor allows Mary to make the color on the images exactly the way she would like it to be (the colors on the printed image are different than on the computer), and she feels that the colored pencils also make the images brighter than the printed version. The Prismacolor gives the images depth as well which they do not have, from Mary's point of view, as just a printed image.
The images on this page ARE NOT FINISHED, this is a work/project that is still very much in progress. These images are DRAFTS, and are just to give an idea of what the new images in this digital project would look like. Mary Baker's hope is that she will be able to create 20 integrated pieces of artwork.  When the images are finished, she will most probably scan them.  Mary has not decided on the price, or how big a run (at this point it is difficult to imagine doing more than one, because they take such a long time). All of this is still to be determined.
This new digital art image journey has been chronicled on Mary Baker's Art Blog, which can be read here.
These are three more DRAFT digital images. Please press images to enlarge.